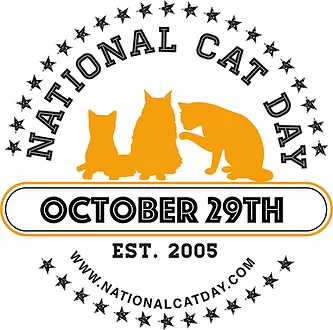 Friday, October 29, is the ultimate feline adoration day.  National Cat Day was established by Colleen Paige, an animal advocate, in 2005 as a way of highlighting the needs of cats for rescue, protection, and companionship. 
Cat people already love their cats, but it's great to have a day set aside to spoil them just a bit more than usual.  After all, if you have a cat that loves you, then you already know he'll certainly curl up with you, comfort you when you're down, or at least walk across your keyboard randomly while you're writing just to break the tension of your day.
Here are some tips based on a list from the National Cat Day website regarding ways to celebrate the day:
You might consider adopting a cat from the shelter or an animal rescue organization. While you're at it, consider donating blankets, food, or toys to the shelter.
Maybe you could commit to volunteering to help staff out at the shelter as they are usually have many tasks which require attention each day.
You could even break up the monotony for shelter cats by playing with them or helping to socialize skittish cats there to improve their chances of adoption.
Bake some cat shaped cookies for your kids, friends or office, or bake some tuna cookies for your cat (Here's a recipe!)
Take a look around the house to see if you can improve the safety of the environment.  Here are suggestions from Shaw Veterinary Clinic in Highland, Ark., that might help.
You might spend a bunch of time with your cat having fun and taking pictures to post on social media or frame in your home.  Have a friend or family member shoot pictures of you with your pet, and you'll not only make memories but have the pics to prove it. This gives you a chance to really be in them.
Help an ill, elderly, or disabled neighbor by cleaning the litter box, spending time with them and their cat, or clipping kitty's toenails.
Buy your cat something new.  We all love new toys or a comfortable place to hang out. And cats especially love it if you add catnip…to anything.
Click here to see some of the other ideas on the National Cat Day website.