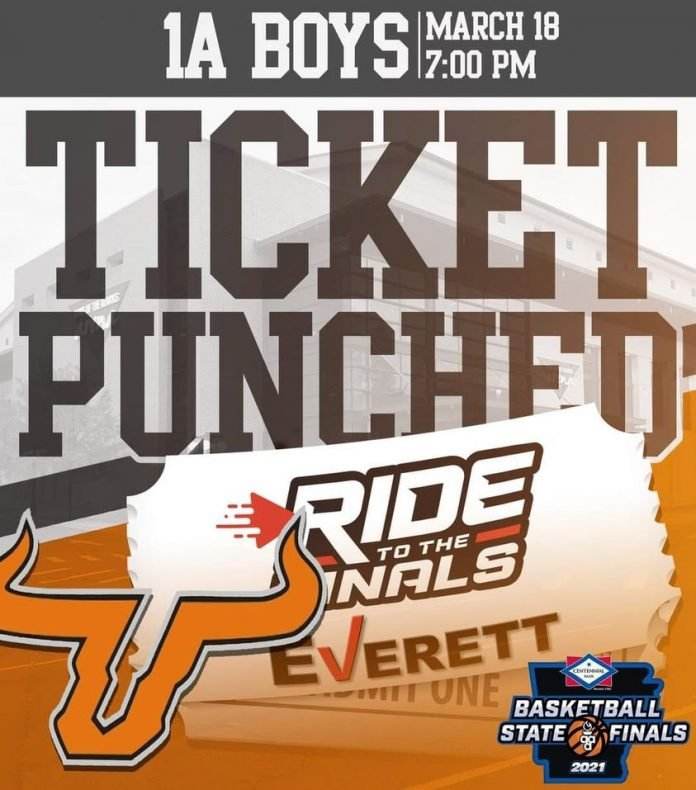 The Viola Longhorns beat the Nevada Blue Jays 65-58 in the semifinal round of the 1A State Basketball Tournament last week. Now they are scheduled to meet the Greers Ferry West Side Eagles to determine the champion 1A team in the state March 18 at 7 p.m. at the Bank OZK Arena in Hot Springs, Ark.
Many students and residents of Viola turned out in the pouring rain to show their support for the Longhorn players and staff during a send off event mid-day March 17. They waved to friends as the team bus began its journey, escorted by law enforcement and fire department vehicles and personnel.
Viola School Dist.: Link to tickets to the Boys Class 1A State Finals on Thursday: https://gofan.co/app/events/275122
Tickets for the 2021 Centennial Bank Basketball Finals will be available to the public at noon the day before the game at https://gofan.co/app/school/AAA. They will be $8. Smartphones are required and no paper tickets will be accepted.
Those that aren't able to attend the Viola or Salem finals can watch the games on Arkansas PBS. It looks like you can watch it on their website live if you do not get the Arkansas PBS channel. Here is the link: https://www.myarkansaspbs.org/watch
According to the Viola School District, Parent Teacher Conferences at Viola School are being rescheduled for Friday [March 19]. School will dismiss Friday at 1:00 pm with conferences beginning at 2:00 pm.
School will also be dismissed early on Thursday [March 18], at NOON. This will allow those who plan to travel to Hot Springs for the State Finals ample time to make the trip.