by Kari Hollis
Here's a really easy, fun craft! I took an empty wine bottle and filled with water, put red and yellow food coloring to get orange, put lights inside (attached to a fake cork with switch). I taped off the top of the wine glasses, used a few drops of alcohol inks (red and yellow and sprayed with a little alcohol to spread), and let it run down the stems while turning it so inks mix together. When dried, about 10 minutes, I painted gold and orange leaves w/acrylic paints (optional!)
Here's a really easy, fun craft! I took an empty wine bottle and filled with water, put red and yellow food coloring to get orange, put lights inside (attached to a fake cork with switch). I taped off the top of the wine glasses, used a few drops of alcohol inks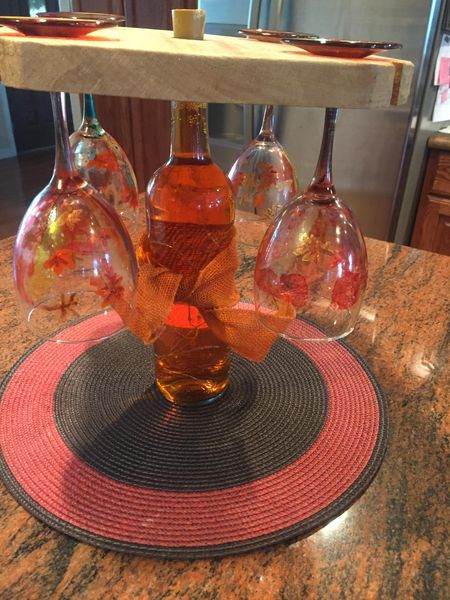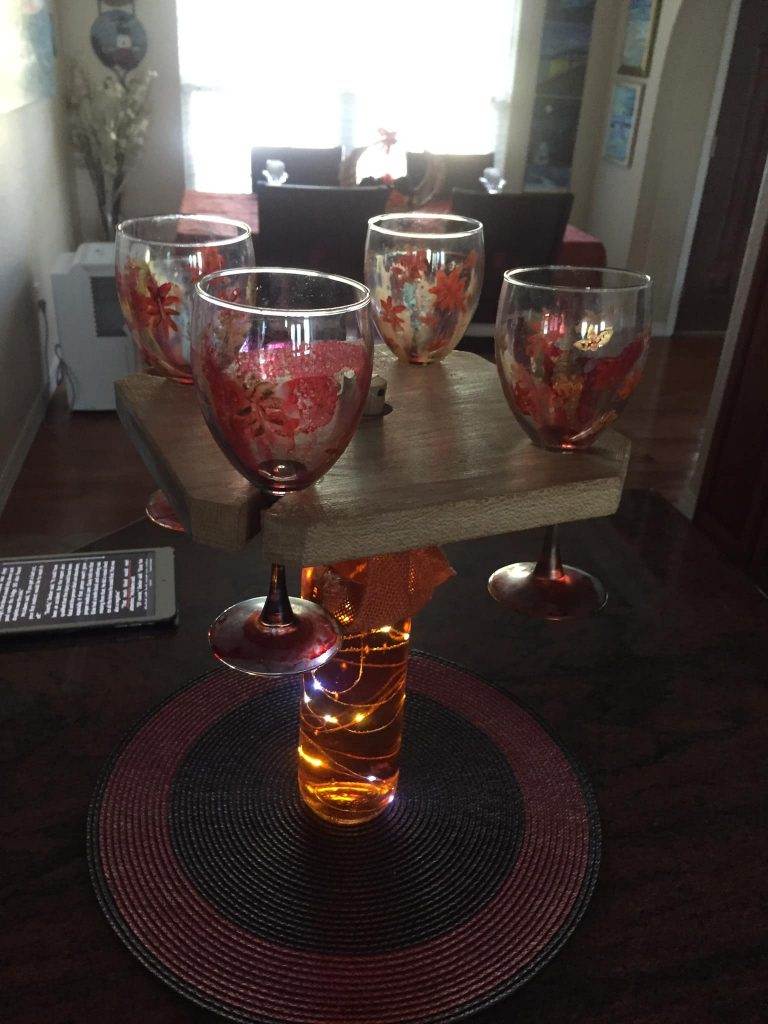 (red and yellow and sprayed with a little alcohol to spread), and let it run down the stems while turning it so inks mix together. When dried, about 10 minutes, I painted gold and orange leaves w/acrylic paints (optional!)
Got the wood holder from Wood 'N Things Store in Hardy on Main St. that fits through a wine bottle. I used an empty bottle and soaked then scraped off label and put a burlap ribbon around it, but you can just use a full wine bottle. You can fill your glasses and hang upright too! Don't put glasses in dishwasher but carefully clean inside when use after you cure it:
To cure paint, put glasses in oven on cookie sheet, preheat oven to 350, bake for 30
minutes, then turn off oven and when it cools take glasses out. Or, wash off glasses with dawn and paint them for another holiday and change food coloring in bottle!