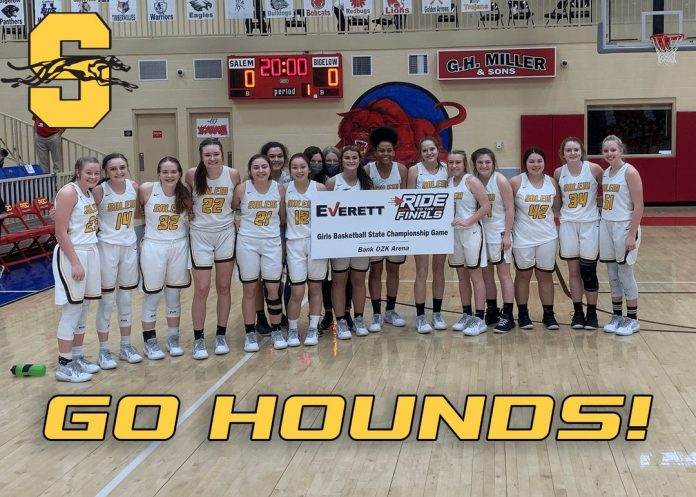 The Salem Lady Greyhounds outscored Bigelow 51-42 in the Semifinals of the 2A State Basketball Tournament in Melbourne on March 15. The Lady Greyhounds earned their place in the Championship game bracket with the Melbourne Lady Bearkatz for the big show at Bank OZK Arena in Hot Springs on March 19 at 10 a.m.
In the 2A Central Regional Tournament earlier in March, Salem met with Melbourne to become Runner-up to Melbourne's Championship.
"To give everyone the opportunity to support the Lady Greyhounds in the State Finals at Hot Springs, Salem Schools will be closed on Friday, March 19th. This day will be made up at the end of the year, and will make May 25th the last day of school." Salem School District.
Tickets for the 2021 Centennial Bank Basketball Finals will be available to the public at noon the day before the game at https://gofan.co/app/school/AAA. They will be $8. Smartphones are required and no paper tickets will be accepted. [Arkansas Activities Association]
Information about the tournament finals can be found here: https://www.hotsprings.org/events/aaa-state-basketball-finals-2021/
And here: http://www.ahsaa.org/ or here https://www.facebook.com/ArkActAssn/about/?ref=page_internal