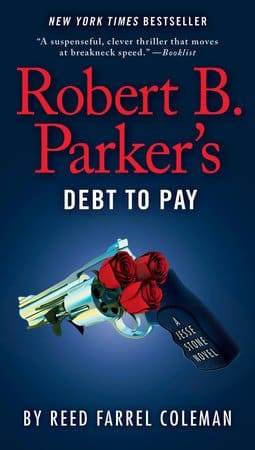 Book Review by T. E. Hill
Robert B. Parker's Debt to Pay by Reed Farrel Coleman
In general, I have a negative attitude towards the trend in books for new authors to take over a series made famous by a previous author. A good author should be able to come up with his own environment and characters, right? But, I really enjoyed Parker's Jesse Stone character, the ex-LA detective who is now the chief of the Paradise, MA, police department. Tough, smart, and seriously flawed. So, I've been trying Coleman's version.
And, while I think that Parker would have done it better, Coleman continues the story of Jesse Stone effectively. In Debt to Pay, Jesse is up against a psychopathic killer who threatens all those he knows and loves. Ever notice how the psycho killer is always extremely smart, way ahead of the police, and impossible to catch? All true here. But, I became seriously engrossed with this story knowing that one or more of Jesse's friends or relatives was probably going to die in the end.
Debt to Pay is not the best of Parker, but it is still a very good read. And, I became engrossed in knowing that someone would get it, but never figured out who. I enjoyed it and recommend it for all you mystery readers out there.