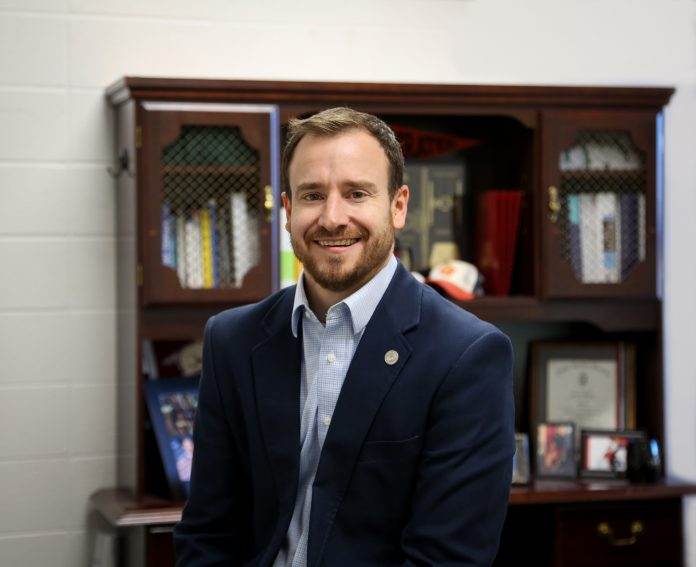 Dr. Josh Wilson, vice president of advancement at Ozarka College, has been named by Arkansas Business as a 2021 40 Under 40 honoree, the publication recently announced.
According to the state-wide publishing group, 40 Under 40 honors men and women under the age of 40 "in business, nonprofits and government who are making a significant impact."
The honorees, nominated by readers and chosen by the editors of Arkansas Business, will be recognized at a luncheon ceremony and in a special edition of Arkansas Business. The 2020 40 Under 40 awards luncheon, presented by Bank OZK of Little Rock, is scheduled for Thursday, June 17 at the DoubleTree in Little Rock.
"We are very proud of Dr. Wilson and benefit from his innovative thinking and leadership," said Dr. Richard Dawe, Ozarka president. "This honor is most deserved and it serves to publicly highlight another one of our stars at Ozarka College."
Wilson led Ozarka's advancement team through a year full of challenges, with accomplishments including: securing a $1.47M federal grant for workforce development initiatives, hosting the highest revenue-generating golf tournament in Ozarka history, and achieving $200,000 of a $300,000 capital campaign goal in the six months prior to the 2020 pandemic stall. Dr. Wilson also received the National Council for Marketing and Public Relations (NCMPR) Communicator of the Year award for Ozarka's district.
"This is truly an honor and I am thrilled to be part of such an amazing group of Arkansans," said Wilson. "I am so fortunate to work in the education field and I cannot stress enough how this is a direct result of years of support and encouragement from my colleagues, family and friends. Not everyone can say they get up every day knowing if they work hard, they can change someone's life or play a role in uplifting their communities."
Prior to serving in advancement, Wilson served as vice president of student services and coordinated the College's first strategic enrollment management initiative. He led Ozarka student services to multiple years of enrollment growth and expansion of student support services. and coordinated the first campus housing project for the College. Also, at just 34, Wilson was the youngest vice president appointee in the College's history. In 2017, Wilson earned a Doctor of Education degree with an emphasis in Leadership from University of Arkansas at Little Rock. Wilson also holds a Bachelor of Science degree in Finance and a Master of Public Administration degree, both from the University of Arkansas-Fayetteville.