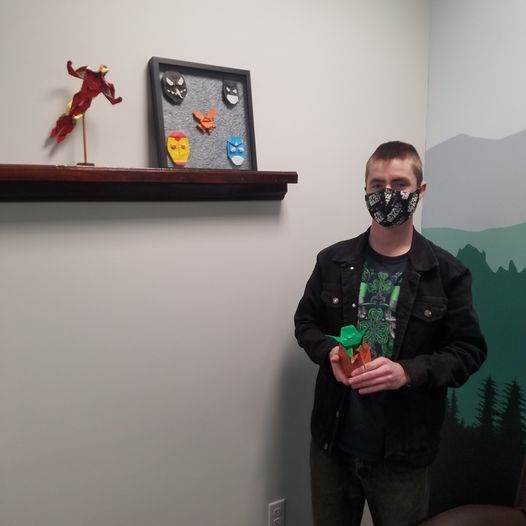 "Origami is the art of paper folding, which is often associated with Japanese culture. In modern usage, the word 'origami' is used as an inclusive term for all folding practices, regardless of their culture of origin." – Wikipedia
Our March featured artist at the Ash Flat Library is Kyle Harrington. His works will be on display until March 31. Harrington was first introduced to the art of origami at the age of five years old. He first tried folding models like the crane and the frog. Quickly disillusioned, Harrington quit.
In his late teens, he picked up origami again, this time with determination to perfect the models. "That is when I discovered a whole new branch of origami, spaceships from Star Wars, superhero characters and other pop culture themes, which have been gaining in popularity," Harrington stated. "I pushed myself to practice until I got each one right, sometimes using a bunch of paper," Harrington excitedly continued. "The past few years, I have tried my hand at designing my own models as well, learning more each day."
"To me origami is more than just a hobby, but something to spread joy through. If I can make someone's day a little brighter, I think it is worth the effort," he concluded. Harrington has started a YouTube channel with tutorials on how to fold his designs as well as other's.
Check out his works and tutorials at Kyle Harrington Origami on YouTube, kyleharringtonorigamis on Instagram and for more information e-mail at [email protected].
The Ash Flat Library is open Monday – Friday from 10 a.m. to 5 p.m. and Saturdays from 10 a.m. to 2 p.m. We have curbside pickup available, call first, reserve your books and set up a time for pickup. The library is also online at explorethelibrary.com where we are open 24/7 for ebook and audiobook checkouts.