The Highland School Board acted swiftly in their selection of a new superintendent, hiring Jeremy Lewis to lead the District into the 21-22 school year. In the November board meeting, Don Sharp announced he will retire at the end of this school year, completing his fifth year with the district. At the December school board meeting, the Highland School Board conducted interviews and selected Lewis to be the superintendent.
Highland School Board President, Jason Rhodes said, "Mr. Lewis has demonstrated strong leadership skills and a great work ethic while leading the faculty, staff, and students at the high school. We as a school board have confidence in Mr. Lewis and believe that he will lead the Highland School District by continuing to serve the faculty, staff, students, and community to grow and be successful." Lewis has been serving the District as the high school principal since 2019. In that position, he has helped the school attain Marzano's HRS Level 1 Certification, focused on a transition to a more positive culture, and has been instrumental in the transitions needed to make this year a success in light of the global pandemic.
"I am very excited, honored, and grateful to be selected as the next superintendent of the Highland School District. Our school has a tradition of excellence that we hope to continue and build upon. Thank you to the Highland School Board for the opportunity to serve in this capacity," said Lewis.
Lewis is a graduate of Highland High School class of 1991. He received the Bachelor of Education from Arkansas State University(ASU), Masters of Science in Education Administration from William Woods University, and completed his Educational Specialist in Superintendency from ASU in Fall 2018.Lewis has been with Highland School District since July of 2012. Positions held include:
Highland High School Principal, July 2019 – Present
Highland High School Assistant Principal, July 2017 – June 2019
District Athletic Director, July 2015 – Present
District Grounds and Facilities Administrator, July 2016 – June 2017
Highland High School Dean of Students, July 2014 – June 2017
Head Boys Basketball Coach, July 2012 – June 2016
Having experience in several areas of administration, make Lewis a well-rounded candidate for his new role. Before coming back to Highland, Lewis spent time in the districts of Viola, Thayer, and Piggott.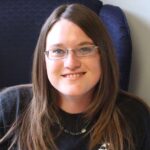 Lauren is a an award-winning journalist who decided after 10 years of newspaper experience to venture out. Hallmark Times was born.