We will be "springing forward" overnight into Daylight Saving Time (DST)
While cell phones should make the leap automatically, manual clocks in cars, stoves, and everywhere else will need to be advanced an hour which means folks will be losing one hour of sleep.  However, we get an additional hour of daylight at the end of the day so there will be more light in the evenings for cookouts, ball games, and other outdoor activities for the next eight months, until we return to Standard Time (ST) in November.
The concept of DST was introduced in the US in 1918 as a measure to conserve fuel and energy during World War I.  It made sense to use the natural daylight for work so that less of the energy needed for the war effort was used to light work areas during the dark hours.
The practice was abandoned after the war until it was revived year-round during World War II by Franklin D. Roosevelt, but again the idea was abandoned at the end of the war.  During the energy crisis in 1974, year-round DST was utilized, however since so much of the country had drifted from its agricultural roots, the unpopularity of the average person starting their day in darkness of early morning during winter wasn't received well, and in October of 1975, it was once again shelved.
DST begins on the second Sunday of March and ends on the first Sunday in November.  Only two states do not participate (Hawaii and Arizona) although 16 state legislatures have passed their own versions of bills calling for the end to changing the clock in this way.  The states would require Federal approval to make it all legal, and a group of U.S. Senators has proposed the "Sunshine Protection Act of 2021" which would "make daylight saving time permanent."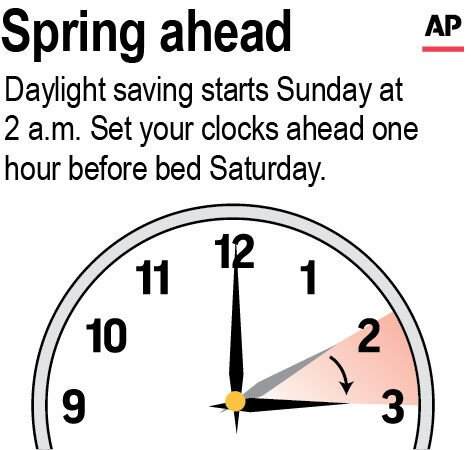 Some wise choices for today:
The National Weather Service suggests that we use this day of 'changing over' to our advantage as a sort of day to remind us to do a few really important things around the house.
Do a tornado drill at home and write a family communication plan. Tornadoes may not be your disaster of choice, but it is important to know what to do and where to go and to have every family member on the same page in an emergency.  Make a plan, practice, and let your kids ask questions and have the answers they need so they aren't guessing what to do in an emergency with you looking for them worried sick.  Make it clear with the drill.  Create the family communication plan so everyone know how and where to leave word if for some reason they are separated.  Everyone should memorize phone numbers and contact info.  It's a good time to explain to toddlers that mommy and daddy actually have names and what they are and teach them to recite addresses and phone numbers.
Test and replace batteries in your NOAA (National Oceanic and Atmospheric Administration) weather radio.  Don't assume batteries are fresh enough to carry you through.  It is smart to replace them annually so they don't fail due to age just when you need them most.  Weather alerts can save lives!
Replace the batteries in your smoke/carbon monoxide detectors. It's important to replace older batteries with new, and it makes sense to do it on the same day at the weather radio so you'll be ready for an emergency any time of the year. Fires and carbon monoxide are no joke. A simple battery change can keep the warning systems ready for prime time to help save you and your family-member's lives.