The Ash Flat and Hardy School Bell Dedication ceremony was held on May 4 at Rebel Memorial Football Field, Highland High School. The bells were moved from the elementary school where they have been for many years to a place of honor on the field.
Tate Isaacs, 2020-2021 Student Council president, welcomed the crowd and introduced the honorary bell ringers. Representing the 24-inch Hardy Bell were Jan Lusk and Johnny Carter who had attended the Hardy School, and representing the 28-inch Ash Flat Bell were Dolly and Rex Nicholson who had attended the Ash Flat School prior to consolidation of the schools when the Hardy Bulldogs and the Ash Flat Eagles came together under one roof.
The story of the bells from the student perspective was told by Isaacs, including the plan for "reviving the pride" through inception, discussion, and details of the move to their final mounts at Rebel Memorial Football Field.
"This represents the whole community," Isaacs said. "When we come to Highland we're going to be able to hear those bells." He especially wanted to remember Chad Stark and the members of the grounds maintenance crew who built the mounts for the bells. The school board members were mentioned as being important and supportive in the project, and Jan Lusk was identified as being a great source of information regarding the history of the bells. "Everybody who was a part of this deserves a huge thanks," Isaacs said.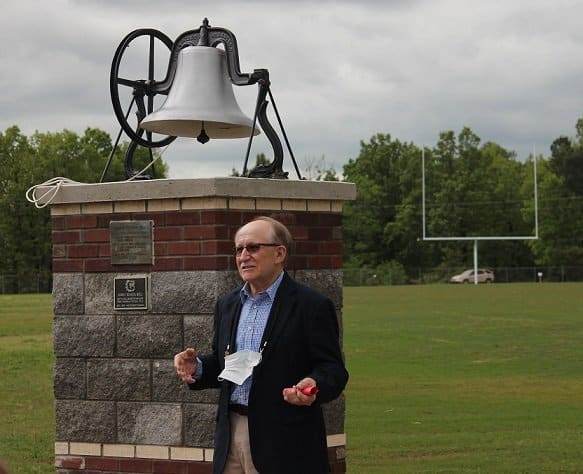 Mr. Don Sharp, superintendent of the Highland School District, described the collaboration between student council, administration, the school, school board and community in supporting the plan through completion, as well as his future hopes for the bells. He had spoken to the student council members about "changing traditions, building new traditions, and waking up traditions. To me that's what's happening here today is we are having an awakening of an old tradition here with these bells."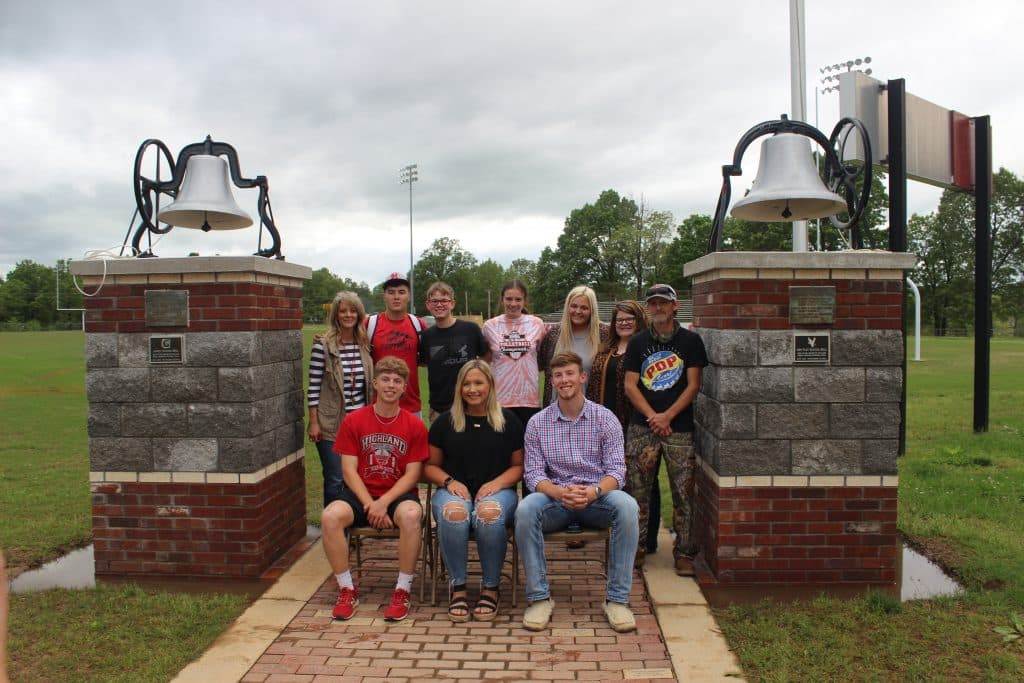 "I appreciate the leadership of Ms. [Lindsey] Helm and Mrs. [Misti] Carter with our student council because they have done a great Job," Sharp said, "Mr. [Jeremy] Lewis and Ms. [Missy] Floyd as well as the leaders of our high school."
Incoming Highland High School Student Council President-Elect Wyatt Goodman spoke briefly, thanked the crowd for coming out, and closed the ceremony with the bells once again rung by past student council presidents Isaacs (2020-2021) and Grace Dunn (2019-2020).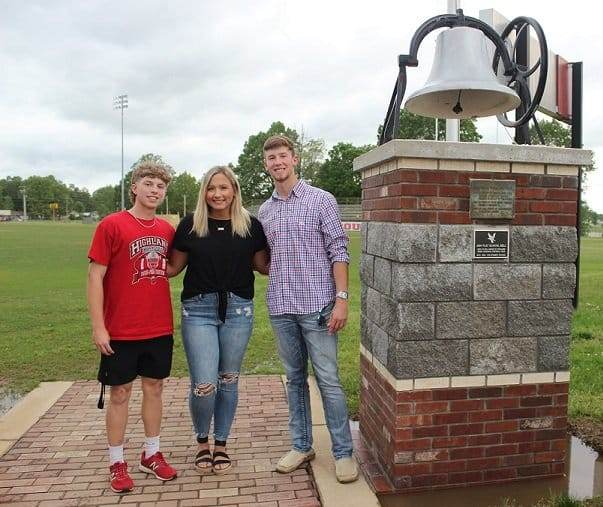 Following the ceremony, stories were recounted and shared between those present in the crowd. A November 23, 1969 article from the Arkansas Gazette outlining the history of the bells and their use and placement in the communities over the years was available for review. Jan Lusk and Dolly Nicholson shared many rich memories.