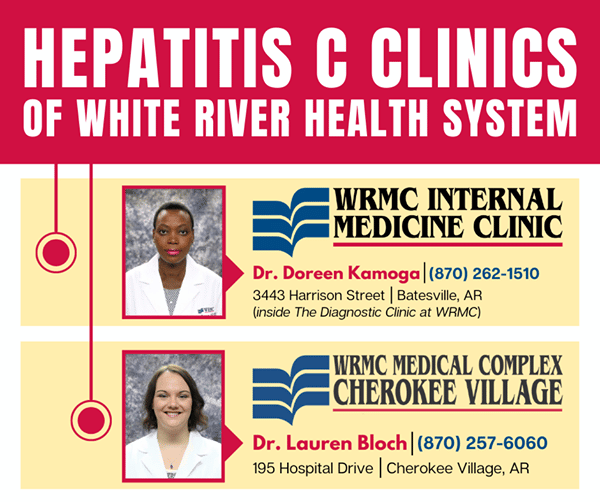 Dr. Doreen Kamoga and Dr. Lauren Bloch are proud to offer Hepatitis C treatments to our community. If you or a loved one have been exposed to, or diagnosed with, Hepatitis C, call today!
Visit Dr. Doreen Kamoga at the WRMC Internal Medicine Clinic Monday-Thursday from 8AM-5PM. Call (870) 262-1510 for an appointment. The WRMC Internal Medicine Clinic is located inside the Diagnostic Clinic at WRMC at 3443 Harrison Street in Batesville, AR.
Visit Dr. Lauren Bloch at the WRMC Medical Complex in Cherokee Village Monday-Friday from 7AM-5:30PM. Call (870) 257-6060 for an appointment. The WRMC Medical Complex at Cherokee Village is located at 195 Hospital Drive in Cherokee Village, AR.