Earlier this year, White River Health System (WRHS) announced an expansion of services with a Medical Detox Unit.
The unit consists of a four-bed facility, housed inside the main campus in Batesville. Accessible to both men and women 18-years-old and older, the facility offers private rooms for patients, counseling, medical treatment and other aspects to help patients achieve successful detoxification.
According to Lisa Hancock, Intake Manager for Behavioral Health at WRHS, a patient's stay may range between three and five days during which time, healthcare providers work to make the detoxification process run as smoothly as possible.
"The average length of stay is three to five days of inpatient care. We use medical means and medications to help people detox from opioids, benzodiazepines, alcohol and more," Hancock said.
When asked what prompted WRHS to construct and open a detox unit, Lindsey Bowers, Community Education Coordinator for the Behavioral Health Division said the decision was made after seeing a need.
"We were doing research for different things and part of my role is to go into the community and talk about mental health, substance abuse and decreasing the stigma around those things. We looked at some data from the State of Arkansas, nationwide, our counties," Bowers said. "We know we have substance abuse issues. The closest detox units are not in our backyard. We wanted to make sure people had the service should they need it or their family member need it."
Bowers also explained detox and rehab are not the same offerings and the unit at WRHS is not a rehabilitation unit.
"When we think of detox, anytime a person begins using a substance daily, it can become a life force that negatively influences a person's personal and professional life and their body becomes accustomed to it," Bowers said. "If they stop using that substance whether it is alcohol, opiates, benzodiazepines; that person can go through what we call a detox, so what we're going to do on the medical detox is to monitor them for detox symptoms. We will safely detox them by monitoring their vital signs and safely detox them by providing medication where they detox safely but as comfortably as possible."
Bowers said not only will most insurances cover a stay at the medical detox unit, but they may help provide various types of care following the stay.
In some cases, detoxification may be painful, although it is not guaranteed, symptoms may range from flu-like to life threatening.
"It is safer to come to the unit because we have the resources needed to help ensure the individual is monitored and safe. Quitting cold turkey at home can be dangerous," Bowers said.
While staying in the unit, Hancock said patients are visited by social workers who help them make plans for treatment following their release. She also noted staying at the unit is completely voluntary.
"We have a planning team, and they help the patient identify what the next level of care should be. It could range from medication, a long-term treatment facility, support groups and other options," Hancock said.
Unlike other facilities in the state, Bowers said the unit at WRHS accepts women who are pregnant or breastfeeding.
"I am really proud of that because it is hard to find in the State of Arkansas. If a woman is breastfeeding, the child is not able to be in the unit, but they can pump milk and it is discarded because the substance/s will be in the milk," Bowers said. "Other detox facilities may not be able to do that, but we can because we are classified as a medical detox unit. Detox is the initial step in treatment to help someone get where they need to go."
Hancock stated the program thus far has been a successful one and she is proud of her team.
"Our providers do a really good job making sure the patient's needs are met. This is voluntary and we can take referrals from other facilities or even people at home. From anywhere," Hancock said.
Each room in the unit includes a bed, private shower and restroom, television and more.
For more information visit https://www.whiteriverhealthsystem.com/posts/white-river-medical-center-offers-inpatient-medical-detox-services.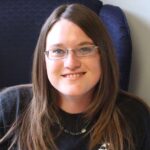 Lauren is a an award-winning journalist who decided after 10 years of newspaper experience to venture out. Hallmark Times was born.