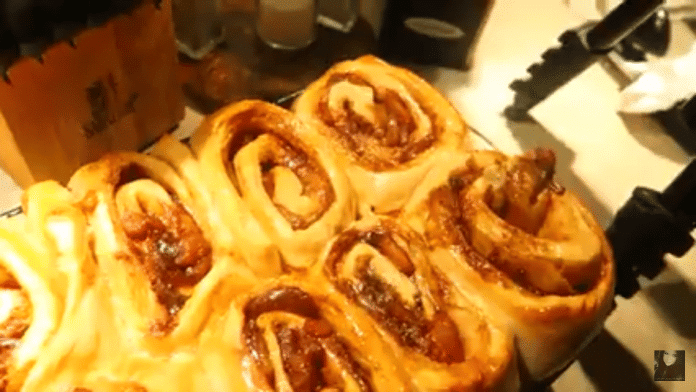 The Kneady Homesteader really knows wonderful breads and she is good at teaching others to create breads the way she does. Here is the video for her Apple Cinnamon Rolls: https://www.youtube.com/watch?v=5coRzDXtkVE.
Please watch the Kneady Homesteader's videos on YouTube. Heather and her family were in a bad accident February 14, 2021, and YouTube videos generate income for the people who have worked hard to create them for us.
The Kneady Homesteader's Apple Cinnamon Rolls
Ingredients
1 1/2 cups warm water
2 teaspoons instant yeast
2 Tablespoons granulated sugar
4 cups bread flour
1 teaspoon salt
3 Tablespoons dried milk powder
2 Tablespoons softened butter
1 Tablespoon honey (she uses raw unfiltered honey)
1 teaspoon cinnamon
2 teaspoons vanilla
Place all of the ingredients into the mixing bowl. Heather uses a mixer and kneads with the machine at level 2 and using the dough hook. Wait till it forms a ball and pulls away from the sides of the bowl. You may need to add just a little more flour to accomplish this, but be patient and see before adding.
Once dough pulls away from bowl, allow the dough hook to work for 5 minutes. Then remove dough from mixer and turn out on a oiled board (oil of your choice). Fold and pinch, fold and pinch until it forms a smooth ball. Place it in an oiled bowl, turn dough to coat all sides with oil, cover bowl with a tea towel and let rise for one hour.
After an hour, press the dough down in the bowl to deflate it, then roll it out on a oiled board [or counter] to make a large rectangular shape. Melt a stick of butter about halfway and spread it over the dough. This will hold the brown sugar and cinnamon.
Crumble and spread about 2 cups of brown sugar over the dough evenly. Spread it out and pack it in. Sprinkle the dough with a healthy sprinkling of cinnamon side to side then up an down to make sure the whole surface has "some" cinnamon.
Drain a can of apples. Spread to cover the dough leaving spaces between apple pieces. Roll up the dough nice and even and tight. Take you time to make it work. Pinch the edge to seal it along the length of the roll.
Prepare a glass 9 x 13 dish by greasing with butter (or you can use cooking spray if you'd rather).
Cut the cinnamon rolls using a bread knife or other serrated knife gently across the roll from top surface to the cutting board. If you want big, thick rolls, you'll cut 8. For thinner rolls, cut 16. The technique is to cut the roll in half. Cut those two pieces in halves to make 4 pieces. Cut those pieces in half to make 8 pieces total. If you want thinner rolls, cut the 8 pieces in half to make 16. Place the rolls, cut side down, in the prepared dish. For 16 rolls you will need two dishes. Turn oven to 350 degrees and allow it to preheat. Cover each dish with a tea towel and allow to rise for 30 minutes.
Bake rolls 20-25 minutes for the thick rolls and less for the thin, you'll have to watch them, and cook then till they are golden brown and have a hollow sound when you tap a roll with your fingernail.
When rolls are ready, brush with butter to help dough to soften. And allow them to cool.
If you want frosting, use the Kneady Homesteader's Copy Cat Cinnabon Cream Cheese frosting from this video: https://www.youtube.com/watch?v=k9gk8wsTjgo
To follow the Kneady Homesteader on Facebook: https://www.facebook.com/search/top?q=kneady%20homesteader