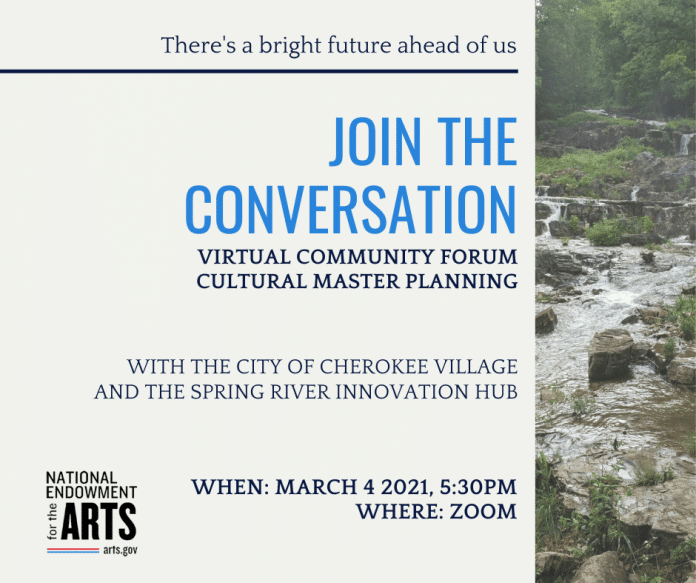 CHEROKEE VILLAGE, AR- The Spring River Innovation Hub, in association with the City of Cherokee Village and the National Endowment of the Arts, is facilitating a virtual community forum via Zoom on Thursday, March 4, 2021, regarding the recently awarded Our Town Grant. The forum is an important aspect of the community engagement process, and will introduce grant activities along with the master planning process. The forum will include a presentation, Q&A and community dialogue.
Project activities will include the development of the state's first heritage scholars program, inclusive design charettes led by artists in residence and cultural experts, and geographic information systems (GIS) mapping. The project's output will include the development of a cultural asset map, an exhibition of findings and collation of data to complement the development of the community's first comprehensive master plan.
Admission is open to all current and past residents. Participants are encouraged to register in advance by visiting https://bit.ly/3bA018Sor the Spring River Innovation Hub Facebook page.
Key public-private partnerships in the project include the City of Cherokee Village, Arts Center of North Arkansas, Cherokee Village Community Developer, Cherokee Village Historical Society, the Spring River Innovation Hub, University of Arkansas Folk and Traditional Arts, Arkansas Department of Parks, Heritage and Tourism, Cherokee Village Suburban Improvement District, Old Kia Kima Historical Preservation Association, University of Arkansas Community Design Center and School of Architecture and the Arkansas Arts Council.
This forum follows a National Endowment of the Arts grant award of $100,000 to construct the first phase of a community master plan to support the arts, culture and community development.
For questions, please email [email protected] or contact Graycen Bigger at 870.335.7409.
Please see forum information below:
VIRTUAL COMMUNITY FORUM
ZOOM – Registration Link https://bit.ly/3bA018S
Thursday, March 4, 2021
5:30-7:00 pm