The Lady Greyhound send off through the Salem town square was held March 17 and the team is on the road to Hot Springs to compete in the 2A State Basketball Tournament championship game against the Melbourne Bearkatz.
"Join us in cheering them on!! Thank you again EVERYONE for the support! According to Mr. Guiltner (superintendent) Salem hasn't been to the state finals since 1968 (53 years)" wrote Amanda Hall.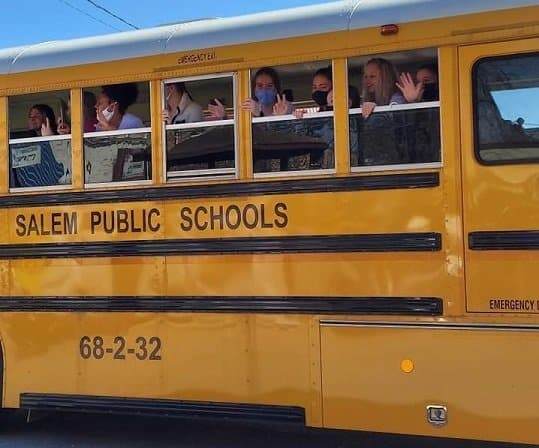 The Lady Greyhounds will play Friday, March 19, at 10:00 a.m.
"In order to attend the event, a ticket must be purchased online at gofan.com. The Salem School District has been allotted 1200 adult tickets and 200 student tickets. Use the following link to purchase your tickets. https://gofan.co/app/events/275123.
There are no printed tickets. Tickets must be shown on a smart phone at the gate (cannot be a screenshot). If you do not have a smart phone, it is recommended that you go with someone who does that can show your ticket. The same ticket process will be used during the all of the state tournament games. A new link for additional games will be posted as soon as possible after the teams play.
Once tickets go on sale to the public, each school's private link will no longer work. At that point fans will need to go to https://gofan.co/app/school/AAA to purchase tickets." wrote a representative from the Salem School District.
In order for every student to be able to cheer on and support the Lady Greyhounds at the State Finals at Hot Springs, Salem Schools will be closed on Friday, March 19th. This day will be made up at the end of the year, making May 25th the final day of school.
In the attached video, Salem Elementary gives the Lady Greyhounds a spirited send off. Video link: https://www.facebook.com/salemgreyhounds/videos/1160074427778469. [If this link does not work, you can find it at the Salem School District Facebook page from March 17 with the accompanying text "The Lady Greyhounds are on their way to Hot Springs! Salem Elementary gave them a proper send off!"]
Information from the Bank OZK Arena in Hot Springs regarding the state tournaments: https://www.hotsprings.org/events/aaa-state-basketball-finals-2021/
Hallmark Times wishes the Salem Lady Greyhounds a safe trip to and from the tournament and a good game at the competition. Congratulations to the entire team on an excellent performance in the 2A Central Regional Basketball Tournament and the 2A State Basketball Tournament and for your first State championship showing in 53 years!