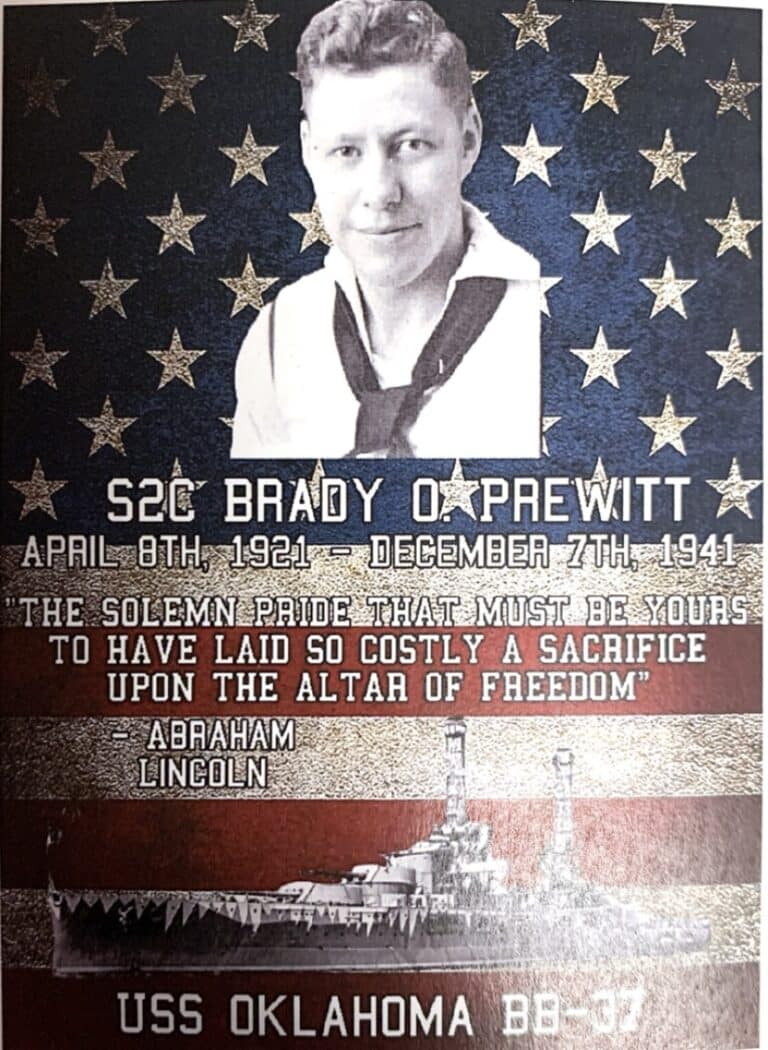 The remains of Seaman Second Class Brady O. Prewitt will finally return home May 13 after 81 years. His life was taken from him during the attacks on Pearl Harbor, Hawaii on Dec. 7, 1941.
Prewitt served on the USS Oklahoma which was located on Battleship Row in Pearl Harbor the morning of the surprise attack by the Japanese Empire.
"The Japanese used dive-bombers, fighter-bombers, and torpedo planes to sink nine ships, including five battleships, and severely damage twenty-one ships. There were 2,402 US deaths from the attack," a representative of the Oklahoma Historical Society said. "Of those deaths, 1,177 were from the USS Arizona, and 429 were from the USS Oklahoma. The crew of the USS Oklahomadid everything they could to fight back. In the first ten minutes of the battle eight torpedoes hit theOklahoma and it began to sink. A ninth torpedo hit the battleship as it sank in the mud."
In August of 2019, Prewitt's remains were identified through DNA testing which then allowed him to make the long journey home.
According to Seth Wortham, with Wortham Funeral Home in Hardy, at 11:45 a.m. May 13, Prewitt's remains will be delivered in Little Rock where he will be given full military honors and transported to Hardy.
"From the airport back to here he's being escorted by a motorcycle group made up of veterans and from what I understand they will have close to 100 escorting him," Wortham said. "They'll escort him back here and he'll be here until the service on Wednesday [May18] and the service is at the A.L. Hutson Center in Highland with visitation from 11 a.m. to 12 noon with the service start at noon."
Prewitt was born April 8, 1921, near Martin Creek to William Prewitt and Stella Reavis.
Prewitt first boarded the USS Oklahoma Dec. 10, 1940 and served just under a year before the attack took place.
"Following visitation and services, he will be returned home and interned in Perry Cemetery [at Martin Creek]," Wortham said.
Wortham explained funeral services were originally slated to take place in April 2020 with Prewitt's brother Paul in attendance, however; Paul, also a decorated veteran of the U.S. Army, was unable to make the trip and died at the age of 101 in August of 2021.
"His nephew will be in attendance as next of kin. The Navy will have a full detail, the rights, and the full rifle squad. There is going to be a Navy Rear Admiral who will be attending," Wortham said.
Wortham said it is an honor to bring Prewitt home and be associated with his funeral proceedings.
"When I was in high school, I waws able to go to Pearl Harbor to perform and while there, we got to see the USS Arizona, USS Missouri and USS Oklahoma," Wortham said. "When we were there, I found there was a Gunners Mate Second Class John Wortham who was also on the USS Oklahoma."
John ultimately was discovered to be a distant relative to Seth, something which made the connection stronger.
"We were distantly related with a gentleman who served with Brady and passed away on the USS Oklahoma. This is special to me. Having been there it hits different. Standing above the USS Arizona seeing the oil still leaking out and the somber nature," Wortham said. "It is really quiet and you're essentially standing above the grave of over 1,100 men. Right down the way is the USS Missouri and so you're standing at the beginning and the end. It's a very humbling and powerful."
When asked how the community could show their respect and support to Prewitt, Wortham said visitation and service is open to the public, however internment will be a private cemetery.