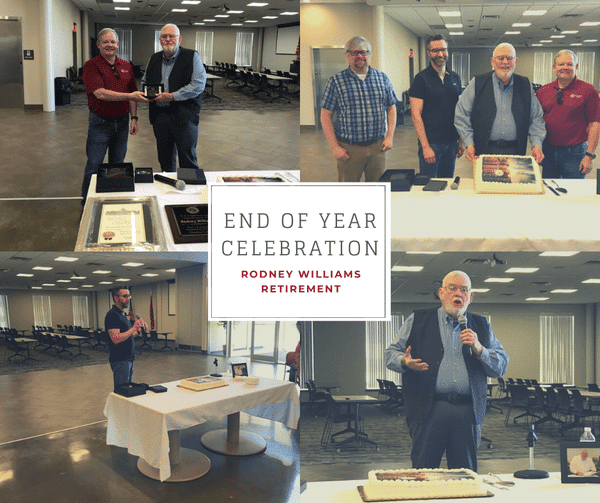 Ozarka College held its annual end-of-year cookout at the Melbourne Student Center Friday, May 7. College staff and faculty gathered to enjoy fellowship after a challenging yet rewarding year for the College and to recognize Mr. Rodney Williams as he prepares for retirement.
Beginning work at Ozarka in 2007, Williams taught history and fine arts courses foundational to an Ozarka education. Ozarka gathered to celebrate Williams' 14 years of dedicated service to Ozarka and his recent recognition as Ozarka's Employee of the Quarter.
"Rodney is most deserving of this prestigious recognition; he has always focused on his students' learning and success and I am proud to call him a colleague," said Dr. Richard Dawe, Ozarka College president. "We wish him the very best in his retirement; he will be dearly missed."
Also during the retirement sendoff, Williams' was presented with an Arkansas Capitol Citation for his 29 years teaching Arts, Humanities, and General Education issued by Secretary of State, John Thurston.

"Rodney's enthusiasm for teaching his subject matter is second to none, " said Dr. Chris Lorch, Ozarka College Provost. "He is highly respected by his peers and students, he holds himself and our institution to very high standards, and we will miss him."
Prior to Ozarka, Williams served in the Education department at the Old State House Museum, in Little Rock Arkansas. Mr. Williams also served as an assistant professor for Arkansas State University – Beebe and Lake Michigan College in Benton Harbor, Michigan as well as an adjunct professor for Pulaski Technical College. Rodney holds a Bachelor of Science in Education and a Master of Arts degree from Arkansas State University. Williams has also served on multiple committees over the years, including Instructional-Arts, Humanities and Education Division, and the Higher Learning Commission Steering Committee.
From all of your Ozarka Family, we wish you well, Mr. Williams!