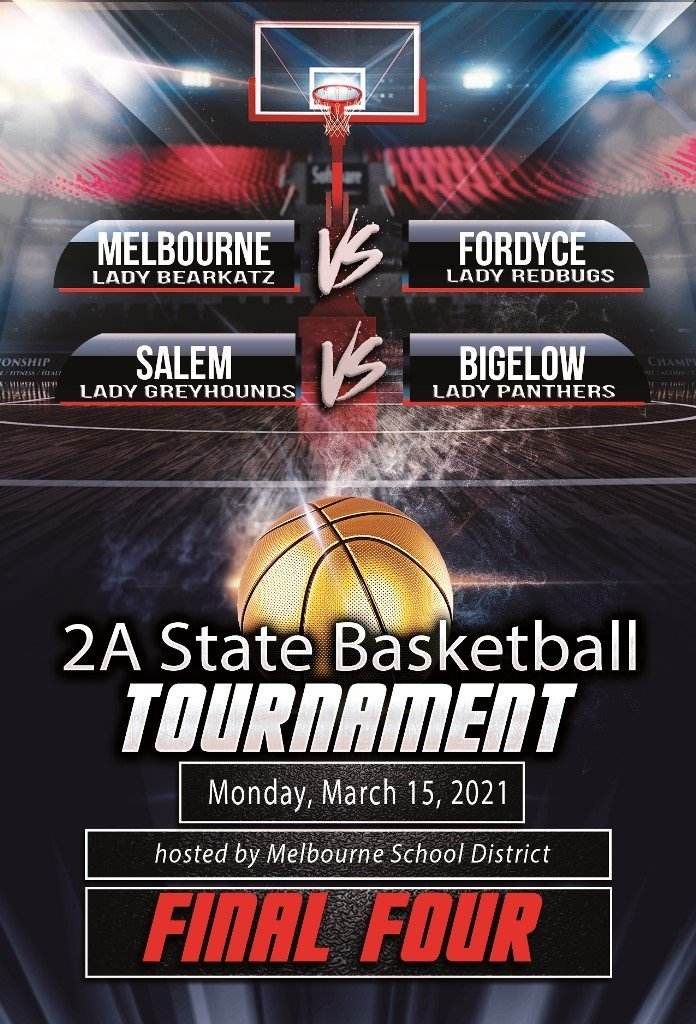 The Melbourne Lady Bearkatz overcame the Mansfield Lady Tigers (68-26) in the second round of the 2A State Basketball Tournament and are set to face the Fordyce Lady Redbugs in the Semifinal round March 15 at 11 a.m. at Bearkatz Gym in Melbourne.
The Salem Lady Greyhounds were victorious over the Acorn Lady Tigers (59-43) in the second round and will meet the Bigelow Lady Panthers in the Semifinal round March 15 at 5 p.m. in the Bearkatz Gym.
The Lady Bearkatz and Lady Greyhounds have both performed exceptionally well this season and ended the 2A Central Regional Tournament as champ and runner-up on March 6 when the score of the final game was 67-43.
The 2A State Tournament Championship round will take place March 19 at 10 a.m.
More information about the happenings of the 2021 2A State Basketball Tournament being held in Melbourne is available here: https://www.facebook.com/2A-State-Basketball-Tournament-108110534672999
All games will be live-streamed by Lake Area Sports. It is supposed to be at https://www.aaascoreboard.com/ or on the AAA app. Melbourne High School doesn't have permission to live stream it.
Link for 2A State Program: https://www.flipsnack.com/…/2a-state…/full-view.html