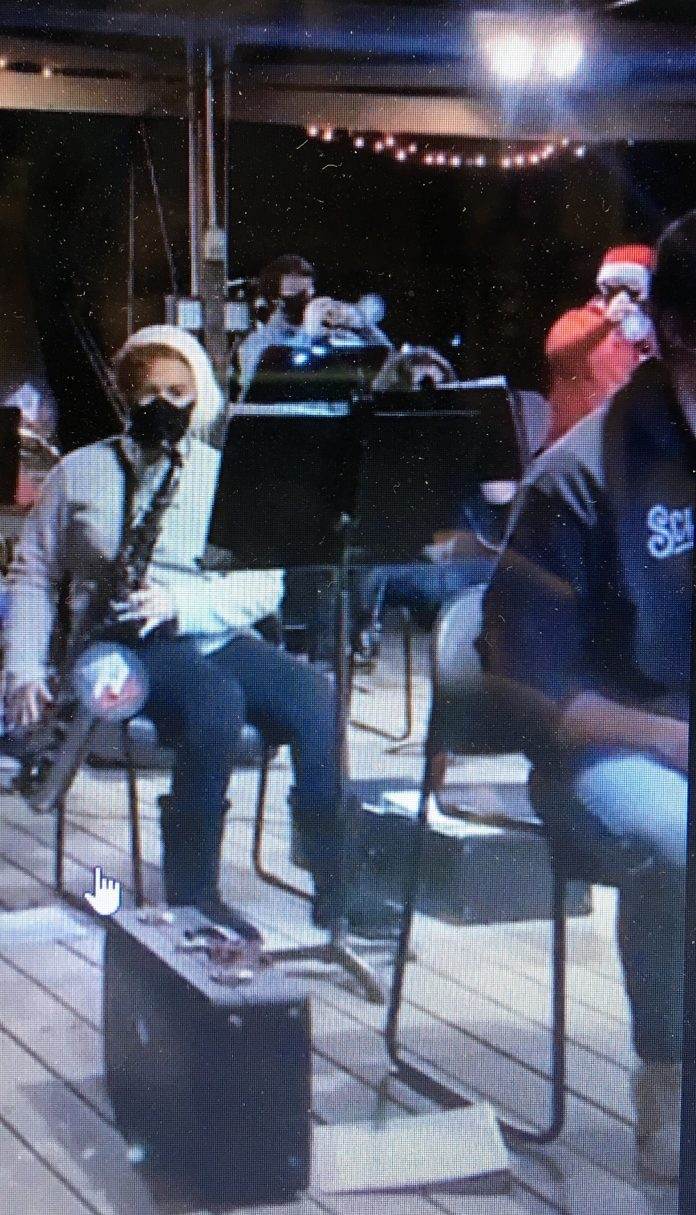 The Highland Jazz Band performed at the Cherokee Village Tree Lighting Ceremony during Christmas in the Village at the gazebo in Town Center Dec. 7.
Band Director Greg Bruner welcomed the crowd and explained, "We were invited to do this [perform] and it kind of turned into our show. It's a Jazz Band Concert and it's outside, so we can play as long as we want to."
While welcoming attendees, Bruner announced the band had prepared a full program. "We normally come down here and perform anywhere between 15 to 25 minutes of just Christmas music. We're going to alternate between Christmas music; Jazz; Swing; Funk and the Blues. We're going to play a little bit of everything," Bruner said. The musicians observed COVID restrictions by being seated six feet apart and played while wearing masks during the 45 minute performance.
Many students were highlighted as they performed solos. The announcement was made that Jake Bishop, one of the band's bass players, had received the honor of being selected "First band, First chair" top bass player in Northeast Arkansas High Schools. Bruner stated, "We're very proud of him." He also explained how COVID restrictions have affected the students, music and the arts in general.
Selections included: Up on the Housetops; In the Mood; Silent Night; The Girl from Impanema; Jingle Bells; Sophisticated Ladies; a New Orleans style offering of Go Tell it on the Mountain; Blue Train; Funky Old Saint Nick and more.
The link to the performance is below.https://fb.watch/2PKQFFm4xh/
@Hallmark Times #HallmarkTimes