On Feb. 25, at approximately 5:30 p.m., the Hardy Police Department was notified by dispatch of a gray Nissan Altima with tinted windows traveling at a high rate of speed toward Hardy. The vehicle was later discovered to be driven by Kristian Banks, 20, of Olive Branch MS.
Officer Scott Rose, who was on duty at the time Banks was being sought was notified the vehicle had led officers in another county on a high speed chase with speeds exceeding 100 miles per hour.
According to a press release from the Hardy Police Department, Officer Rose set up spike strips in an attempt to spike the tires on the suspects vehicle as it entered the city but due to a high volume of traffic, Rose was unsuccessful in his attempt to spike the vehicle's tires.
Banks then began to accelerate passing a semi over double yellow lines and entering the bypass in Hardy driving toward Mammoth Spring.
Rose continued to pursue Banks and initiated lights and sirens, however; Banks had a head start and as he was passing the Liquor Store on the bypass, Officer Michael Himschoot joined in the pursuit.
Banks continued to flee at a high rate of speed reaching speeds of over 100 miles an hour. Fortunately, traffic was light at the time of the chase.
Near the intersection of Highway 63 and Peace Loop Road, Banks was forced to slow as he approached a semi and congested traffic. Banks then came to a stop and peacefully surrendered.
Two passengers were detained but later released without charges. Mr. Banks was cited for numerous traffic charges including fleeing and reckless driving by the officers on scene. He was then placed under arrest and transported to the Sharp County Detention Center.
Banks is being held awaiting the filing of formal charges by additional agencies in Lawrence County.
No damage to law-enforcement vehicles, Bank's vehicle or other motorists were reported nor were any injuries.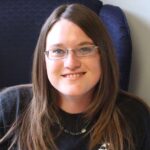 Lauren is a an award-winning journalist who decided after 10 years of newspaper experience to venture out. Hallmark Times was born.