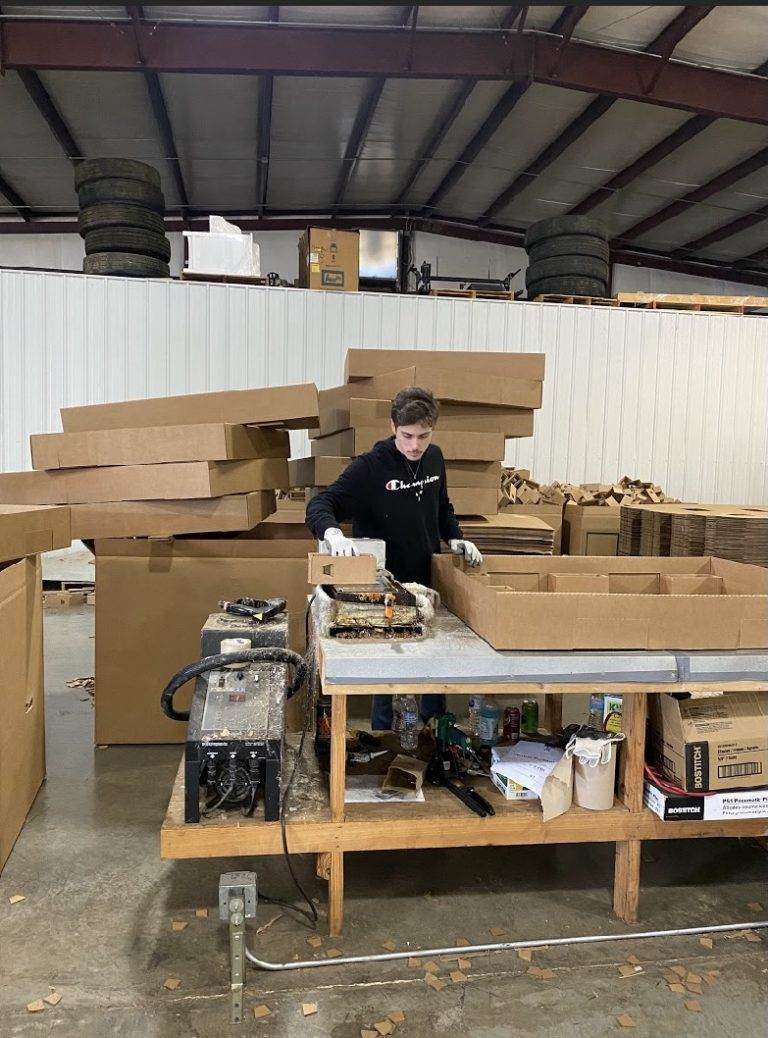 Highland High School students can boost their career or college life in the right direction through a recently launched program.
According to Misti Carter, freshmen orientation and college and career coach, the HHS Internship Program offers life skills and internship opportunities for students.
Although it is just beginning its second semester, Carter said there has been measurable success and some students are working toward improving academically in order to participate when they become eligible.
"I have two freshmen this year that are so interested in being a part of this program, I've seen a change in their academic performance knowing they can participate and they're working toward it now. I've seen success stories in that, and they have not started the program yet," Carter said.
Carter spoke of one student, Highland High School senior Chad Dennis who approached her about the program and has since secured a job at Gibson Box.
"As of right now, we have two business partners, Gibson Box and Emerson," Carter said.
When asked what the purpose of the program is, Carter said one objective is to help students build productive and healthy relationships between the business community and school.
"I want our students to know, I feel like a lot of them are told once they graduate, they need to go somewhere and that there's nothing in our community which isn't true. There is work in our community and that is one of my main goals with this program," Carter said. "Through the program, they must fill out an application for me, meet requirements, interview and have reference to be part of the program and those are skills they need. They will have to repeat them again to get a job somewhere. It's a good skill to have."
Carter said whether a student chooses to attend college or enter the workforce, one thing is certain, opportunities are available here at home.
"There are careers here and I want them to see that. I think right now more than we've had in a long time there are opportunities for our community to grow, draw in and retain people. Keep our students here. Whether they go to college and come back, we have great opportunities here locally and there are great local community programs," Carter said.
Not only is it a great opportunity for students to get a head start with their careers, but it is also an excellent chance for businesses to begin to train up the next generation of leaders.
Carter said since starting the program, she herself has learned a significant amount about local businesses, their needs and what they need in an employee.
"I've learned so much about what opportunities are out there for our students to be successful and start breaking this cycle of generational poverty. I'm excited for our kids," Carter said.
Presently, Emerson and Gibson Box are the only partners, however; Carter said she hopes more businesses will choose to participate.
"We do not dictate how our students will work for them. It is their business, and the business determines the hours, pay and we're there as another form of accountability and support for the students," Carter said.
According to Davy Gibson, owner of Gibson Box, as the employee base ages, younger employees are needed to carry on the work.
"We've been doing this for the last 22 years here. We need younger employees to carry on. It's an awesome opportunity for the kids that aren't going to college but want to enter the workforce," Gibson said.
When speaking about Dennis, Gibson said he entered the workforce in a similar fashion, beginning his career as a senior.
"It's a wonderful way to be involved with the youth in the community. If they're contributing to the workforce and they all will have to at some point in life, whether after college or at some point after high school. This is a great way to ease them into that," Gibson said. "Helping them find the path they will make their career someday whether it's a Gibson box or wherever it's at. The community needs to support this in my opinion and help give the youth structure and direction in the workforce."
Gibson said he was appreciative to the school for helping build a foundation for the students.
"It's part of education, they need to know how to do an interview, show up for work, what to do if they don't show up for work and all of that is great information they may otherwise not know. I've seen many over the years, adults who don't inform an employer they're not going to be there, and some don't even know that they should," Gibson said. "I'm not saying all kids aren't taught how to enter the workforce, but I've run into it."
Although Dennis has secured a job at Gibson Box, presently, he said he intends to attend college for software engineering or computer science.
When asked why he entered the program, Dennis said it was a good opportunity to gain experience and change jobs.
"I had heard that manufacturing jobs were more simple than fast food. I worked at KFC for over a year and a half, it wasn't easy but wasn't difficult. I got tired of it and wanted to try something new. I heard about the program and knew I wanted a different job," Dennis said.
In addition to fulfilling his academic responsibilities, Dennis holds two jobs, one at the school and the other at the Gibson Box.
"I would encourage other students to communicate, especially about the workforce. I know a lot of kids don't go out and look for a job but complain about having no money or that they don't have anything to do," Dennis said. "Work is a good, time-consuming activity. You can work and make money. Around here, there aren't as many jobs, but there are jobs. I know it took me a while to find one and I had looked from West Plains to Jonesboro. Depending on the pay, hours, and schedule, it can be difficult to find a good fit."
Dennis said he would recommend the program to any student no matter the company they choose to work for.
"I would recommend this 100 percent to as many students as possible. If they can go through this, they should. I'm honestly shocked there's not already another student working at Gibson. I'm shocked there aren't more juniors and seniors out there working," Dennis said.