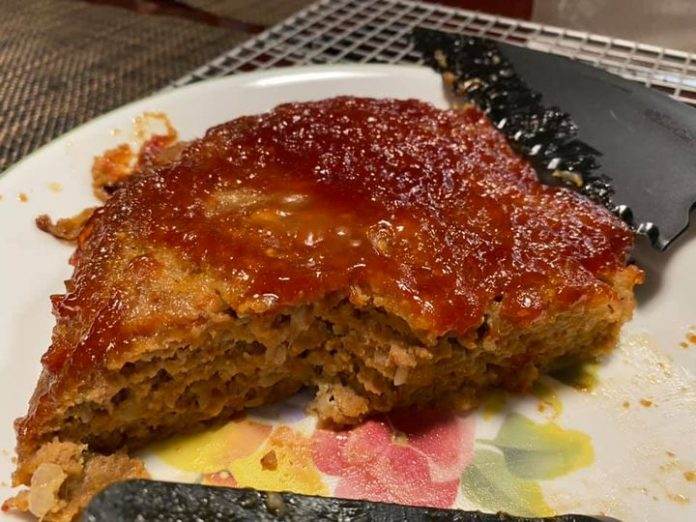 Hubby gave me not one, not 2, but 4 compliments during dinner! His last was, "Wow, that was just the best dinner," makes me happy here at Smokey and Chip's Florida Hideaway.
What is interesting is it is MY favorite meal…and generally not his.
I made meatloaf, boiled red skinned potatoes and creamed corn (which crazy enough he even complimented…probably because I used some heavy whipping cream that was still hanging out in fridge)
Whenever anyone eats my meatloaf they always want the recipe. It is such an easy meal. And for the most part, this is just how it is also written on the back of Catelli label.
MEATLOAF:
place into mixing bowl 2 to 2.5 pounds of ground meat (generally a mixture of veal and beef….and easiest if you can find Catelli Meatloaf mixture …which here in Sebring, Florida we can find in the Winn Dixie.)
Add 2 eggs
3/4 cup Italian breadcrumbs
a chopped onion
an envelope of Lipton Onion Soup
1 tsp pepper
1/4 cup of parmigiana cheese
1/4 cup ketchup
2/3 cup of milk.
Mix up. Dump into a sprayed pan.
Glaze: mix up
1/2 cup brown sugar
1/3 cup ketchup
Spread over top of raw meatloaf.
Place uncovered into 350°F oven for 90 minutes in a 9″ x 13″ glass baking dish. Check temp. The interior of the meatloaf needs to be to 180°F.
I remove from oven and tilt to allow any grease to run to end.
Let sit 10 minutes before lifting out onto serving platter and enjoy. Then you'll be getting the compliments!