The West Plains Police Department is currently seeking information on the whereabous of Darren L. Break.
Break is a 45-year-old white male approximately 6 feet tall and weighing approximately 200 pounds with green eyes. Break is a suspect in a felony domestic assault investigation. He is considered to be armed and dangerous. Do not approach or attempt to apprehend Break. Contact the West Plains Police Department at 417-256-2244.
Update: As of 11:16 a.m. on 1/1/21, The whereabouts of Break are unknown. Break is still considered armed and dangerous. We ask community members not to make contact or attempt to apprehend Break.
If anyone has information on his whereabouts, they are urged to contact the West Plains Police Department at 417-256-2244 or at [email protected] Information can be placed anonymously.
The photograph of Break used here is the most recently available and is from 2011. Break is believed to have reddish and gray facial hair, has tattoos on his right and left inner forearms. Photograph was provided by the Oregon County Sheriff's Office.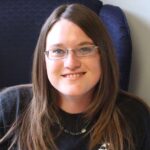 Lauren is a an award-winning journalist who decided after 10 years of newspaper experience to venture out. Hallmark Times was born.