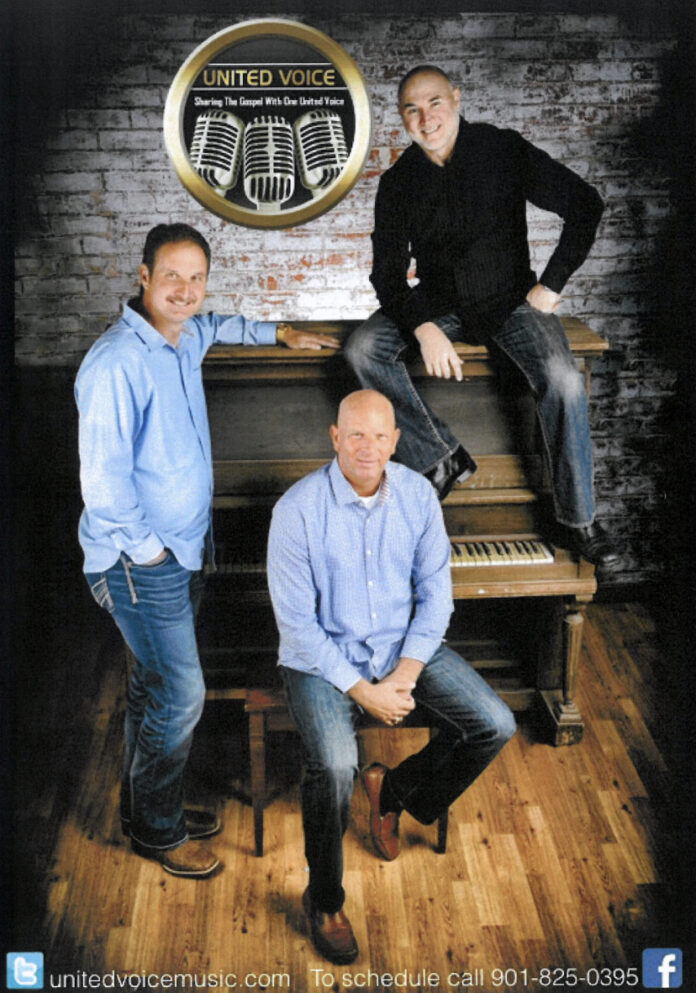 Salem Praise and Worship Fellowship located at 682 West Hwy 62 in the former Skyvue Center is excited to welcome United Voice to Salem, Arkansas.   The evening of Gospel Music will be September 22 begining at 6 p.m., and it will be a night to remember.  Come expecting a blessing of God and you will experience the presence and power of God as these men sing songs that will move your heart and your feet.
United Voice is made up of three men who love the Lord and who love Southern Gospel Music.  Mike Franklin began his musical pursuits in his teen years singing with The Liberty Four Quartet in high school.  Mike is best known for his years with The Melody Boys Quartet.  Mike has a unique perspective and view point on his calling to minister The Gospel through music.  He has a great testimony of God's grace and love.
Chris Bennett began his journey in Southern Gospel music while still in high school and he hasn't looked back.  In 1986 Chris sang baritone with a local trio known as Homeward Bound.  A move to North Mississippi came and he became part of the Memphis based Southern Heritage Quartet. Returning to his home state of Arkansas in 2016 found him joining United Voice and he continues to share the love and grace of God through Southern Gospel Music.
Jeremy Ballinger began singing at an early age standing on a piano stool beside his older sisters in church.  From there he started his first singing group Redeemed Quartet at the age of 15 with friends who loved gospel music. Jeremy has sung with several part time, regional and full time groups that included Under Grace, The Brashears, and Old Time Preachers Quartet.  Jeremy is also a pastor and evangelist and loves to share the love of God in song and in the Word of God.
For a great evening of Southern Gospel make plans to attend this concert.  There is no admission charge and a love offering will be taken. It all happens at Salem Praise and Worship Fellowship, 682 Hwy 62/412 West, in Salem, Arkansas.  Remember the date September 22 at 6 p.m.  For more information contact Pastor Tom Doty at (870) 926-9934.