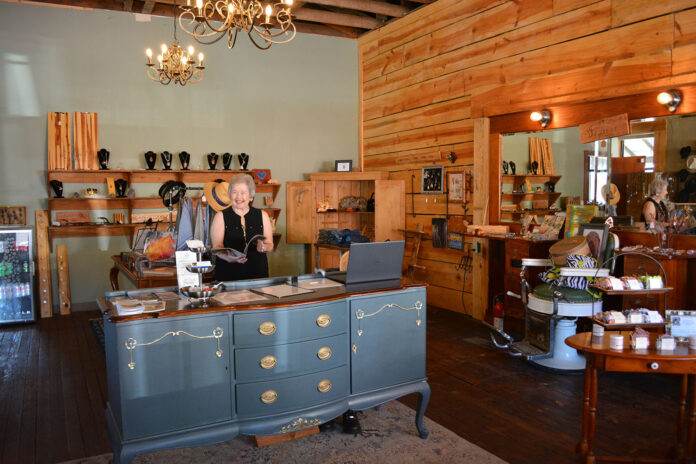 Traveling along the Ozarks, one never knows what they will find. Surprises and hidden gems at times hide in plain sight, whether it be in the form of a resident with a fascinating history, a unique business or in the hundred-year-old structures which are still utilized today.
In Calico Rock, for example, the trifecta exists in a small store on Main Street named Fricki's Attic, where any Wednesday through Saturday, one might have the pleasure of meeting Fredericka Silvey Johns, founder of Fricki's Attic and front man for Juniper's Back Door, a speakeasy which shares the decades-old structure located at 131 Main Street.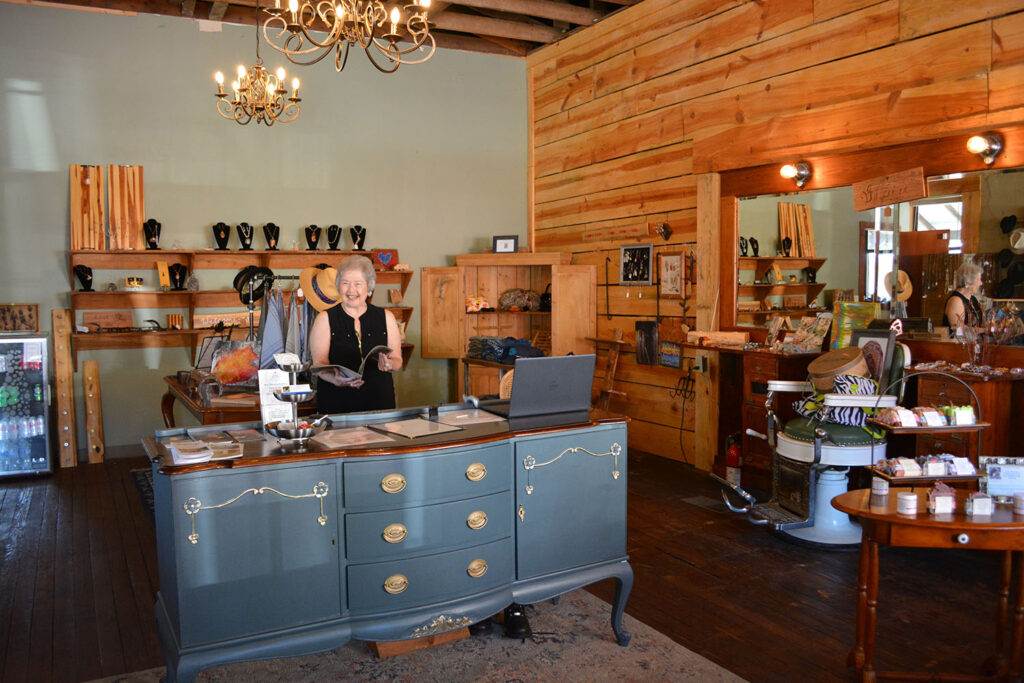 Johns said she discovered the community in the mid 1960s, when her parents moved to the small town nestled on the White River.
"I was in college then, so I didn't really live a lot In Calico Rock until my husband and I retired and moved back. This was after college, university, music conservatory, summer theater work and opera school where I met my husband, Thomas Michael Johns. We were married in 1976 and went to Germany to sing in the opera and we sang and worked there for 35 years," Johns said.
In 2012, the Johns' relocated to Calico Rock and Thomas passed away approximately a year and a half later.
Johns said she knew without a doubt what her plans were prior to relocating and she wasted no time in becoming involved in the community.
"I knew what I wanted to do had to do with community work. I worked with many different groups in Calico Rock, including the Chamber of Commerce and the premises where I had the chamber office, later became Fricki's Attic," Johns said.
As Johns thought about her life, reminiscing and looking at items she'd brought with her from Germany, she decided she wanted to share those items with others, and Fricki's Attic was born.
"I opened the shop where I sold a lot of my German and European articles and had some collectables and vintage items. I found it was a really interesting business and I enjoyed doing it," Johns said.
One never knows what they will come across or who they might meet in the Ozarks and this was confirmed for Johns when one day, Brenda Wolfe and Dan Wilcher strolled into the shop and began inquiring about the more than 100-year-old building.
"They walked in and said they'd heard the building was for sale. They were from Chicago and had been in the area before. They'd built a house in Norfork and were interested in this building," Johns said.
After a phone call to the owner of the building who resided nearby, and about an hour-long conversation, it was a done deal and the couple had purchased the building.
"They bought it and Brenda knew exactly what she wanted to do with it and her idea came to fruition and we kept Fricki's Attic, she liked it very much and so we changed the way it looked some and the items that we sold there," Johns said, explaining by this time she had nearly run out of old memorabilia and foreign treasures to be sold. "There are some refurbished authentic Fedora Hats, different coffees and teas, hand forged items, jewelry and art.. but I'm just the front man."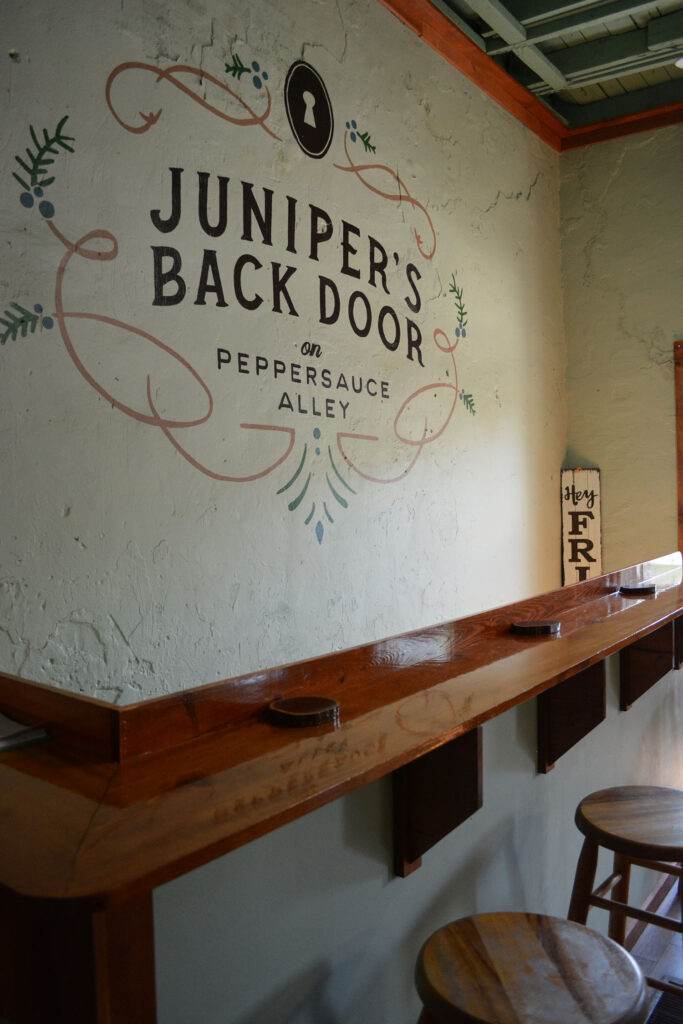 Johns lit up when the words "front man" left her lips, and quickly followed with an explanation about Juniper's Back Door.
"You have to be very quiet and have to go around the passage, outside the building into Juniper's Back Door," Johns said with a sly grin. "There is no secret word to get in there, but you do have to sign your name because it's a private club."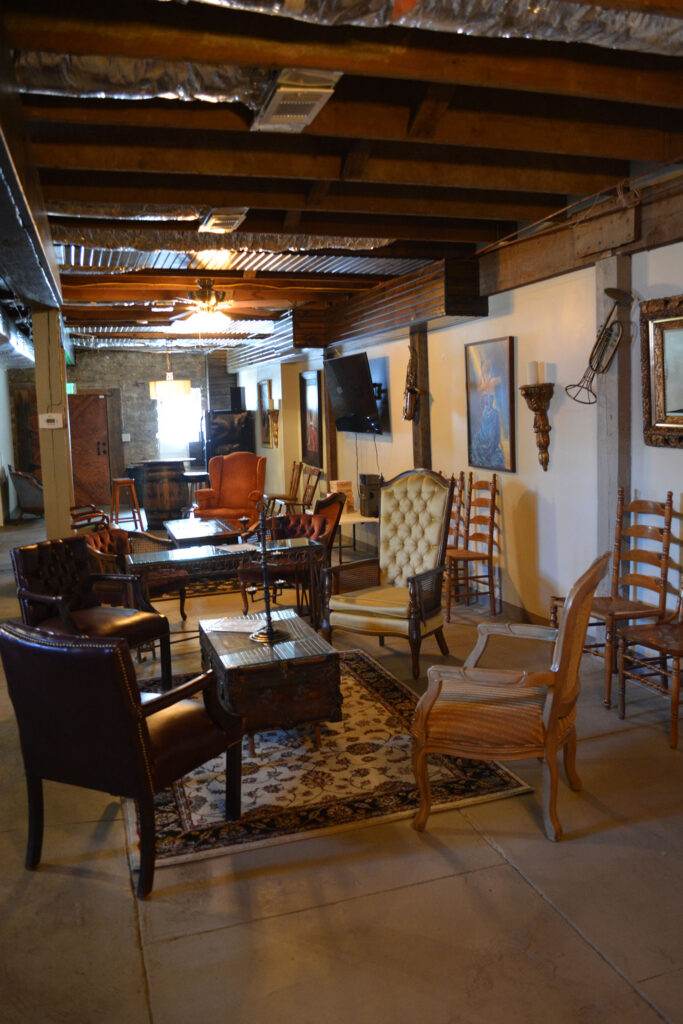 The family friendly restaurant is a time warp, back to a time of prohibition, when Wall Street was bombed and women were given the right to vote.
Upstairs, when entering the building, one would find a rustic wooden bar and smiling faces, but downstairs, the furniture, stage and overall atmosphere is as close to the 1920s as one could get in 2023.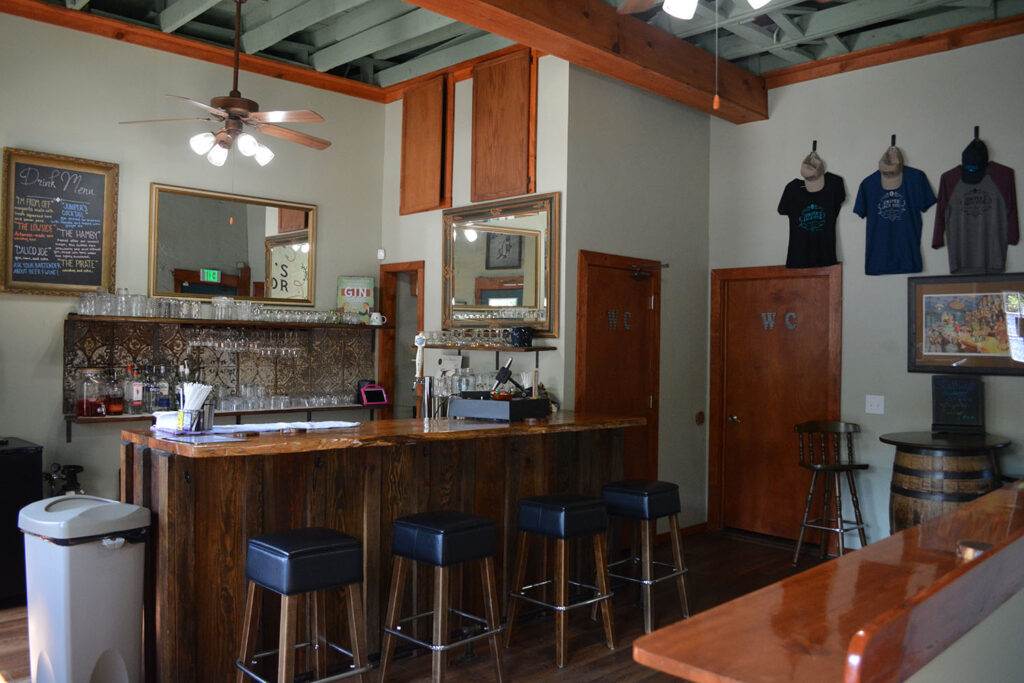 "You can have an adult beverage with your meal. We have a wonderful chef named Kristi. Linda is our hostess and bartender and loves to converse with customers. You'll find once you come to Fricki's Attic and Juniper's Back Door, you'll want to come back," Johns said. "You can have lunch or dinner and there is live music on Saturday nights."
Johns said like all small towns Covid took a toll, but fortunately, although it delayed the opening of Juniper's, it did not kill the dream of opening a private club where friends, family and clubs could meet and enjoy time in the unique atmosphere together.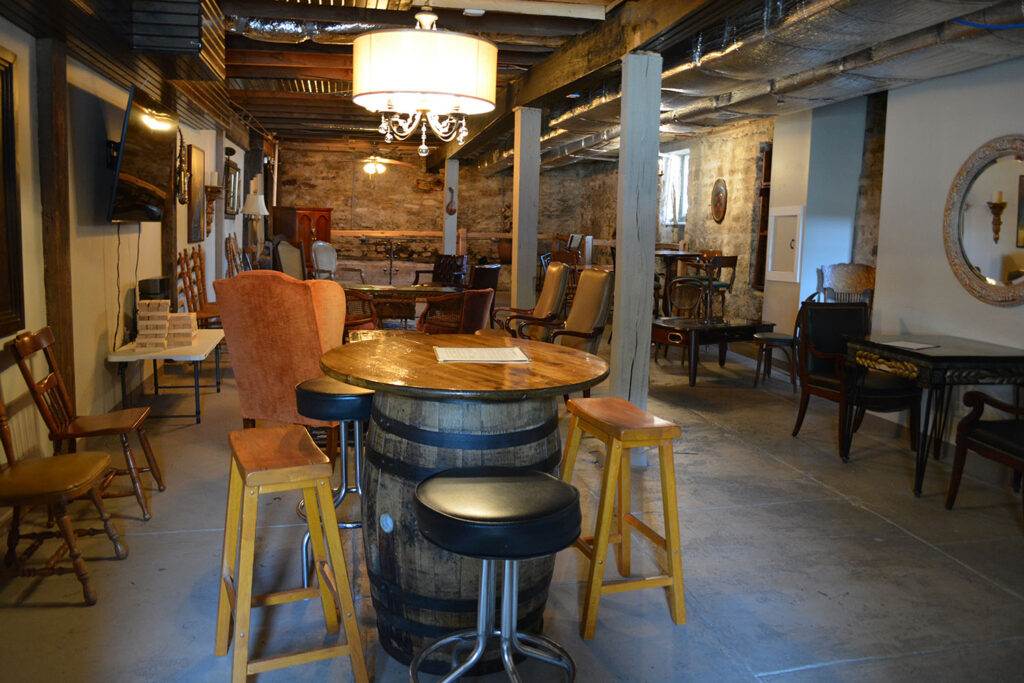 When asked about future plans, Johns said both businesses plan to continue to serve the community, and she plans to become more deeply involved in helping revive community organizations and carry on the work her father and his friends invested in.
"When I came back to town, I started serving as the choir director at my church, the Cumberland Presbyterian Church. There were several community organizations which my dad and his comrades enlived. My father was a senator and my mother a music teacher," Johns said.
When asked which organizations Johns favored, it was not a short list.
"The Chamber of Commerce, the Calico Rock Industrial Development Corporation, The Corporate CORE which is mainly involved in keeping Main Street alive, a 2020 group which keeps Main Street beautiful and any kind of community endeavor," Johns said. "Prior to Covid, we had the Peppersauce Players and held many historically based plays, musicals, but Covid took a toll on our small town."
Johns said she hopes to resurrect the theater group, but in the meantime, has been spending time documenting the history of Calico Rock.