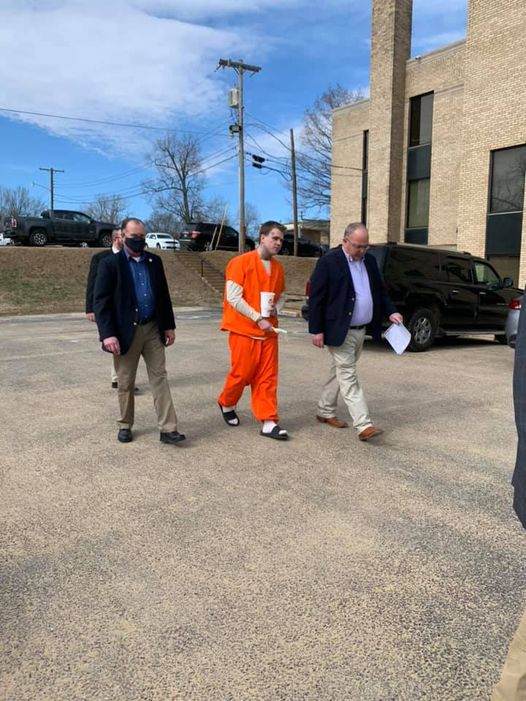 Charles Paul Stovall, 24, of Cherokee Village, appeared before Judge Rob Ratton March 2 at the Randolph County Courthouse in Pocahontas to enter guilty pleas for the murders of Linda Janny, 72, of Cherokee Village and Hayleigh Gruger, 23, of Cherokee Village and the attempted murder of Deborah Compton, 41.
His initial charges were two counts of capital murder, a class Y felony; two counts abuse of a corpse, a class C felony; battery in the first degree, a class B felony; aggravated residential burglary, a class Y felony; two counts breaking or entering, a class D felony and theft of property, a class C felony.
According to the plea agreement, Stovall pleaded guilty to two counts of capital murder carrying life sentences without the possibility of parole and battery in the first degree carrying a sentence of 240 months. All other charges in this case have been null processed.
Dave Gruger, father of Hayleigh addressed the court and Stovall. "On behalf of myself, my wife Debbie, my son, his sisters and most importantly my grandson I stand before you and Mr. Stovall to let you know your self-centered and hideous acts have affected us and how they will affect us for the rest of our lives…who are you to decide who gets to live and die and how that is to be carried out. You've taken our daughter, granddaughter, sister and mother away from us," Gruger said.
Kristy Miller, Daughter of Linda Janny also spoke, "You ripped away a grandmother, sister, mother and even more than that is she still lives on through all of us. What you did was unspeakable and horrendous… the only comfort my family has is that you'll never walk the streets again."
Other members of the victims families also came forward to speak whether by reading a letter or speaking from the heart.
Stovall also made a statement, "… I am terribly sorry and I will spend the rest of my life in prison, and I hope somehow everyone affected gets closure. I am truly sorry."
The charges and plea stem from a series of incidents which occurred in October of last year after Sharp County Dispatch received a call for service to a residence on Warpath Drive in Cherokee Village.
On Oct. 19, 2020, Bryan Pittman, stated he had gone to check on his friend and upon entering the residence, found the body of Gruger in her bedroom at her home.
Pittman told dispatch Gruger was covered with a blanket and when he uncovered her, he saw blood. He told authorities he the covered her body with the blanket and left the residence.
When officers arrived on scene, they located Gruger in a bedroom and the scene was secured until a search warrant could be obtained.
An additional incident had taken place earlier that morning when at 1:35 a.m., a vehicle break in was reported and a witness, saw Stovall breaking into her vehicle. She then confronted him at which time he exited the vehicle and left on foot.
Later that morning, authorities were called once more while still investigating the scene on Warpath.
Officers then responded to a call for help on FM 101 road in Highland for a reported stabbing.
When officers arrived on scene, they spoke to Preston French who said Deborah Compton had been stabbed multiple times by Stovall while the three were riding in his vehicle. French said Stovall had run into the woods once the vehicle was stopped.
Not long after, Stovall was apprehended in close proximity to the scene.
After being verbally Mirandized, Stovall admitted to stabbing Compton and fleeing into the woods. He also admitted to breaking into the vehicle earlier in the morning.
When asked why, he stabbed Compton, Stovall stated he was tired of her talking.
He also admitted to killing Gruger the day prior. When asked why, he claimed she had stolen from him and he wanted to get her back.
During the interview, Stovall informed authorities he had also killed Linda Janny at her residence on West Lakeshore Drive in Cherokee Village. Again he was asked why and his response was relatively similar, claiming Janny, too, had stolen from him.
Authorities were immediately dispatched to the Janny residence and after entering the home, found the body of Janny.
It was discovered that a 2019 Jeep Cherokee was missing from her residence. When asked where the vehicle was, Stovall said he had left it at a park in Hardy.
Stovall provided details of the events which had occurred and his actions which caused the deaths of two of the three victims.
After today's proceedings, when asked for comment regarding the case, Third Judicial Prosecuting Attorney Ryan Cooper said he largely credits law enforcement and the citizens of Sharp County. "I want to thank the Sharp County Sheriffs Office, Arkansas State Police and the entire law enforcement community of Sharp County," Cooper said. "I also want to thank the community of Sharp County for their support, as well as, and the tireless efforts of law enforcement. I hope these combined efforts will grant the victims' families some small measure of peace and closure."