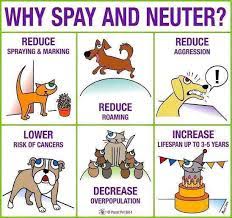 Ozark Mountain Mobile Spay/Neuter has scheduled another clinic for August 24, 25, and 26 in Hardy at the Civic Center. A phone line will open July 19 to begin taking reservations.
Mark you calendars and watch for more information coming out next month.
Surgery for dogs will be $65 for small, $75 for 70# plus, $85 for 90# and over. Surgery for cats will be $40.
Rabies (if needed) will be $5. A hosting fee of $5 will also be required to help us pay for the building rental. Other basic shots and tests will be available to purchase.
Also, take this time to consider approaching your neighbor and offering your help in getting their pet fixed. When both adults in the family work, it's a huge challenge to deliver a dog or a cat to the vet and pick it up later in the day. For an elderly person, catching and confining an outdoor cat the night before the surgery can be a daunting task. Your offer of assistance might just make the difference, and prevent another litter in your neighborhood.