This casserole helps use up some of the zucchini flooding the garden at this time of year. Have you ever noticed that old stained recipe cards usually have wonderful, tried and true recipes?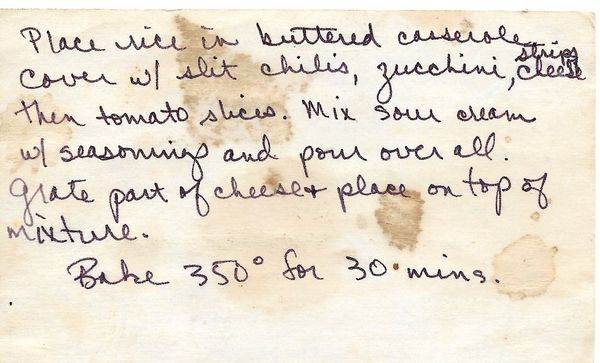 This recipe comes to us from Sandy Jones who collects and shares the recipes she saves from many sources. If you have recipes to share, we'd love to have them, please send them to us at Hallmark Times, P.O. Box 514, Hardy, Arkansas 72542 so we can put them here. Help us preserve the easy, real food recipes that people can make at home.
Monterrey Zucchini Casserole
Ingredients:
1 cup cooked rice
1 (7-ounce) can green chilis
3 medium zucchini, parboiled, sliced 1/4 inch thick
1 large tomato, sliced
1 pound Monterey jack cheese – cut in strips
2 cups sour cream
1 teaspoon oregano
1 teaspoon salt
2 Tablespoons chopped green pepper
2 Tablespoons chopped green onion
1 Tablespoons chopped parsley
Directions:
Place rice in buttered casserole.
Cover with slit chilis, zucchini, strips cheese, then tomato slices.
Mix sour cream with seasonings and pour over all.
Grate part of cheese and place on top of mixture.
Bake 350 degrees for 30 minutes.