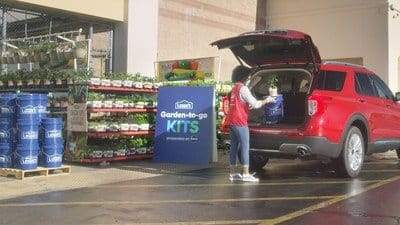 Lowe's launches month-long "SpringFest" celebration this April with free curbside family-friendly project kits to spruce up the home yard and garden. Lots of great ideas will be presented.
Springfest will feature opportunities to learn new skills through on-line and in-store (in some areas) demonstrations and discounts on products as well as amazing Garden-To-Go kits. The idea is to help with ideas, education, and materials to transform the home and yard into a vacation-esque destination.
"Beginning April 1, customers can register on Lowes.com for free Garden-to-Go kits. The first curbside event will be held on April 8 and then occur each Thursday through the rest of the month. These family-friendly activity kits can be reserved on Lowes.com starting one week before each event and kits include:
April 8: Garden-to-Go kit sponsored by Miracle-Gro with exclusive recipes from professional cook and food stylist Amanda Frederickson.
April 15: Lowe's Mystery Garden Pinata with mystery seed packets.
April 22: 500,000 tree saplings given out in honor of Earth Day.
April 29: Lowe's Butterfly Quest which helps families create a butterfly garden." – lowes.com
~~~~~~~~
With this concept in mind, there is a never-ending supply of ideas for building, planting, and creating wonderful home and landscapes available on the internet. It may be time to investigate and explore creative ideas and make the plans to build that permanent summer staycation retreat in your own backyard.