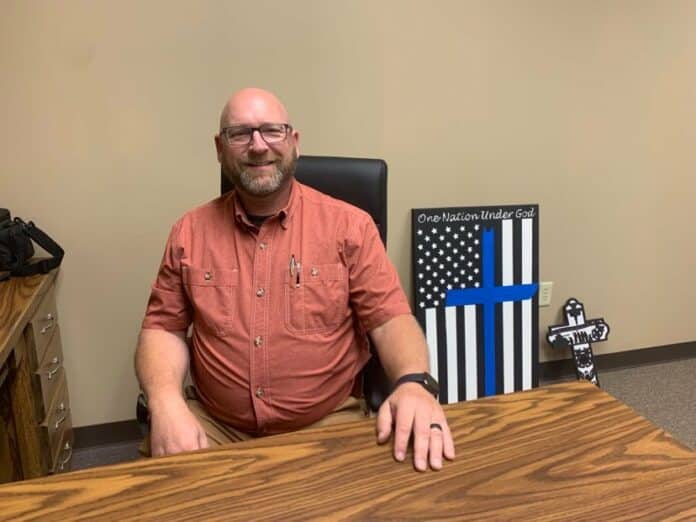 The Sharp County Sheriff's Department has a new investigator following the promotion of Deputy Dennis Gay to serve as one of two officers in the Criminal Investigation Division (CID).
Gay began his new position May 2 and has been getting settled in.
"I went to work for the Sheriff's Department in 2019 as a school resource officer at Ozarka College. I really enjoyed that job. I worked through spring, summer and fall, but when winter rolled around and Deputy Mike Graddy was retiring, the sheriff contacted me and asked if I would be interested in coming to work at the department as a patrolman," Gay said.
Initially, Gay said he did not want to make the change, but after praying about the situation and more conversations with Sheriff Mark Counts, he ultimately made the switch.
When asked how it felt to be promoted and to fill the open position in the CID, Gay said he was honored.
"When he asked if I wanted the postion, I told him I needed to pray about it and talk to my wife. That is my process when it comes to making any big decisions. So, I called my wife and told her about it. She asked if I had said 'yes'. When I told her 'no,' she said it was something she'd already been praying about," Gay said. "She knows how to speak my language and asked me if I was going to be coward Moses or commander Moses. She cut to the heart of the issue, and so I called the sheriff back and said I would take the position."
Working as a patrolman for the last several years, Gay said he feels the change will be a welcome one.
"I am looking forward to getting to work. As a patrol deputy, it was something I've always enjoyed, but I'll be digging into cases more now. There are things to learn, but Sgt. Cody Bailey [also an investigator] said a lot of it is on the job training," Gay said.
Although he will still respond to calls regularly, Gay said the pace will be much different.
"As an investigator, it is a different speed. When you're a patrol deputy, you are the first responder. As an investigator I can still be a first responder, but a lot of times I'm responding to something that has already taken place. I think it is going to be a challenge for me but I also think a lot of fun," Gay said. " I am looking forward to serving."