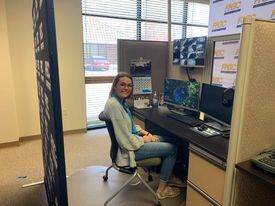 In the fall of 2020, FNBC began installing the iBanker teller machines beginning with Horseshoe Bend. Months later, the program has expanded and the iBanker teller machines have since been installed at most of the bank's locations.
When asked what prompted the decision, Terri French, Vice President Customer Experience said the bank had been seeking more efficient ways to take care of customers.
"We have researched this for several years looking at better, faster and more efficient ways. We have done a lot of research and have gone to other community banks who have already implemented iBankers. We were to a point where growth is one of our strategic initiatives and how we can better serve our customers," French said.
According to Molly Day, Senior Vice President Chief Deposit and Chief Marketing Officer prior to iBanker, the average transaction time was between three and four minutes, but with the iBanker, the average time is between 70 seconds.
In a time when most everything moves at a faster pace, FNBC is in keeping with the theme, however; customer service has not been sacrificed in the name of expedience.
"Once a customer taps a screen, we are in a session with that customer, acknowledging them in under 10 seconds. We give you one on one time. There are no distractions, and we are focused on your needs and taking care of you," French said.
Carly Haney, a Highland High School student and one of the iBankers at FNBC said she was initially hired as a traditional teller and worked at the branch in Ash Flat. She later was presented with the opportunity to change to a position as an iBanker which would still allow her to serve the community as a teller, but to a broader audience.
"Some people are skeptical of it right now and they may or may not have tried it. I think it is less stressful and I like seeing people come around to it," Haney said. "I was helping a lady in Batesville the other day. She was telling me about her dad who is 95 and did not want to try it. He was scared something would go wrong, but now, he looks forward to coming to the bank because he feels technology savvy."
Day said since the implementation of the iBanker, the bank has brought on more employees with four full and four part time running the iBanker station.
French said when the expansion first began, the systems were manned by four seasoned community bankers.
"We're growing it by hiring some part time folks and we're looking at what the next level is and what it can do more than just cash a check, make a deposit and make change," French said.
Day noted a more recent expansion was the addition of the teller machines at both of the bank's Fulton County branches which took place in February.  
"Our customer acceptance and adoption is continuing to increase and with that demand increase, we need more employees on hand to accommodate those adjustments. We've only added employees, we haven't cut back any," Day said. "I would say proudly even through the recession a decade ago, FNBC has never laid off an employee for downsizing or doing something more efficiently. That is not how we do business. That is not our culture."
When asked if the iBanker was ultimately a move toward artificial intelligence, Day said that was not the case.
"I think all businesses are looking for more simple efficiencies. We are not aiming for artificial intelligence and we are not shooting for doing away with a real teller. That is not our expectation or even on our radar," Day said. "I think there is a misconception [of what the iBanker is]. If you come through the drive through, the drawer opens and a person was right there on the other side of the glass. They are still on the other side of the glass, you come through and put your transactions in like you did before."
Haney said it is not uncommon for her to be asked if she is real or not multiple times a day.
"I like the look on people's faces when they realize I'm a real person who works here. When I worked at the Ash Flat office, I would only see people who came to Ash Flat. Working as an iBanker I get to see people from all over. I have friends who go to college in Jonesboro and sometimes when they come through I get to see them. I get to see people I know from Mountain Home or Batesville, and I have met a lot of new people and made a lot of friends," Haney said.
French explained there are different shifts for the iBankers with no fewer than two staff members operating at a time. As sessions or calls come in, they're taken by whichever of the iBankers is not currently assisting another customer.
"We're still right here in Ash Flat taking care of your needs, it's the same friendly faces you know; they're just serving a larger audience," French said. "Just touch the screen and we'll take care of the rest. We walk you through it, we light up where to put your checks, and where your change will come out if you want cash back."
Day said upgrades, changes and improvements will be fluid as the bank receives feedback from its clients.
"We've learned a lot since we launched our first one and we continue to learn and make changes," Day said. "We take all of our customers' feed back both good and bad, but over all our customers are pleased with it."