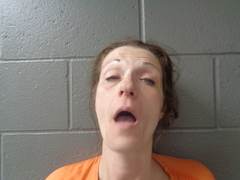 A couple was arrested in Izard County following an altercation at the Jenkins Motel Sept. 5.
According to the affidavit for probable cause of arrest for 42-year-old Heaven Willhite, the charges against Willhite and 42-year-old Joshua Coley followed authorities responding to a call of a domestic disturbance with an armed male.
When authorities arrived on scene, they saw Coley standing in the parking lot of the motel with baskets in his hands while Willhite stood next to Coley's vehicle.
Coley appeared to be taking belongings out of his vehicle while Willhite appeared to be putting belongings back into the vehicle.
When asked if he was armed, Coley stated he had a pocketknife, and authorities cleared his pockets.
Willhite maintained a level of aggression, asking why the officers were being aggressive.
Coley was asked where the firearms were, and he stated they were on the ground in front of the vehicle. Two 9mm firearms were retrieved.
Officers noted there were two containers of THC wax in two different unmarked containers. Coley stated he had a medical marijuana card, but the officer was unable to locate the card in the areas Coley stated it was located.
An argument then ensued between Willhite and Coley who began to shout obscenities at each other while an officer was attempting to place Coley in the rear of a patrol unit.
After essentially being told to knock it off, Willhite continued to yell obscenities as she entered the hotel room she had rented.
As additional units arrived, the yelling continued, but eventually the two calmed down and Willhite returned from the hotel room to tell the officers she had a prescription for THC Wax.
At this time, Coley began kicking the interior of the patrol unit and Willhite began yelling at Coley.
Willhite was escorted away from the patrol unit in which Coley was placed in order to attempt to deescalate the situation.
Coley then provided consent to a search of his vehicle and Willhite consented to a search of the hotel room.
While searching the vehicle, authorities located Coley's medical marijuana card which returned as valid, but also found a set of brass knuckles.
Inside the hotel room, a small, zipped bag was located with a fentanyl patch, a quantity of pills, marijuana, THC vapes, grinder wheel and more were located.
Willhite was placed under arrest and placed in a patrol unit.
Both Coley and Willhite were transported to the Izard County Detention Center.
Upon arrival, Coley was asked if he had anything on his person and if so to make it known so not as to introduce it into the jail.
Coley then reached into a pack in his pants and tossed an object at the chest of an officer hitting him in the stomach.
The object left a white powder floating in the air and Coley was asked what the substance was to ensure it was not fentanyl.
Coley stated it was crushed up Xanax which was confirmed.
Interviews were later conducted with both Coley and Willhite.
Willhite stated she and Coley had a verbal altercation earlier in the day which began in Mountain Home but escalated to the point Coley had attempted to end the two's relationship while at the motel.
Willhite stated the fentanyl patch came from a family member's prescription medication. She said the family member was diagnosed with cancer and that she had taken the patch from the residence for "safe keeping" but had also left an entire box of patches along with other prescribed opiates at the family member's home.
She admitted to other illicit narcotic use including methamphetamine and stated she believed the methamphetamine she had been using was laced with fentanyl since she felt increasingly more addicted to it in recent usage.
A urine sample showed Willhite to be positive for the presence of fentanyl, methamphetamine, benzodiazepines and marijuana.
Coley provided a statement that corroborated he was not staying in the motel.
As a result, Willhite has been charged with possession of fentanyl, a class C felony, her bond has been set at $10,000.
Coley was charged with possession of a controlled substance, criminal use of prohibited weapon, disorderly conduct and obstructing governmental operations. His bond was set at $3,130 and has since bonded out.