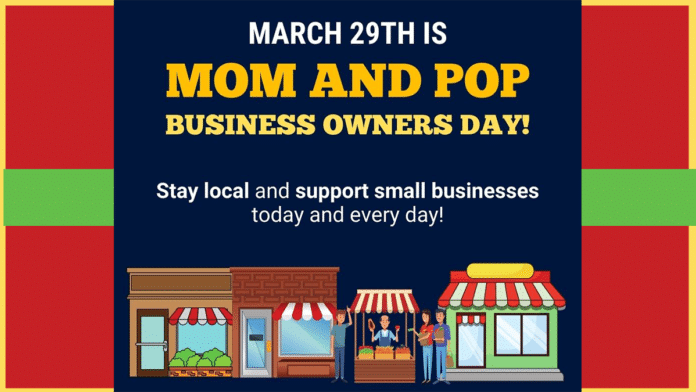 March 29 is National Mom and Pop Business Owner's Day!  Small businesses are often lifelong dreams folks have morphed into reality through hard work and dedication.  We all benefit from having people who live amongst us and understand what we really want in our communities starting businesses.  They take time and invest their savings to create brick and mortar stores that we can rush into and get just the right thing when we really need it. They aren't like the big box stores with impersonal service.  When you support a Mom and Pop business, you are investing in your community. 
There are ways we can celebrate to show appreciation to our local business owners today and every day that include buying gift certificates to share with friends or give as gifts. You can share their social media pages on your page to help friends find them and remind folks to buy local to support the local economy. You can visit neighborhood Mom and Pops and remind them you appreciate them and their businesses—its tough to have a small business in this economy! Be a repeat customer. Heck, even talking about them with your friends will help spread the word!
Remember.  These are your neighbors.  Their kids or grandkids go to our schools.  You know them…or you should meet them!  They are part of our community.  They create jobs. They sponsor teams and events. They provide prizes for fundraisers.  It would be great to help celebrate that they are here and March 29 is our reminder to have fun doing just that!