The Cave City Library reached a milestone recently as they have completed the collection of sought-after year books from 1947 to present.
According to Cave City Librarian Jill Carr, the project of collecting the yearbooks has been ongoing for the past six months.
"For me, the most exciting yearbook of course was from my mother's year which was 1947 that was given to us by Carrie Brightwell," Carr said. "We were looking for the 1948 yearbook that was the last one to complete the collection and that was given to us by Billie Pinkston from a friend of hers in Fayetteville."
Carr said other projects ongoing include completing shelving and working to improve the aesthetics of the library to create a more enjoyable experience for patients.
"We have a really wonderful board that we work for that has been overly generous this year with helping us to complete shelving that was necessary this year. Our board also has given us beautification money that was used to help bring artwork into our library inside as well as out," Carr said.
Carr said the library is planning events and contributions to the community as far out as next summer.
"We have friends of the library Committee who has been more than generous with their funding to assist in helping give money for the Watermelon Festival such as books Popsicles Candy Costumes. Next year for the melon festival we expect to have even more giveaways at our booth we are hoping to make a presence in our community that way," Carr said. "We are looking to have something at Christmas time using the Grinch and Mr. and Mrs. clause and do some reading times with our children."
Carr said this year's Summer Reading Program was a great success thanks to the efforts of the Literacy Project who partnered to create 17 meeting days during the summer.
She noted that the sky is the limit as far as upcoming projects are concerned and donations from the community are always welcome to help those projects come to completion.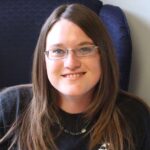 Lauren is a an award-winning journalist who decided after 10 years of newspaper experience to venture out. Hallmark Times was born.