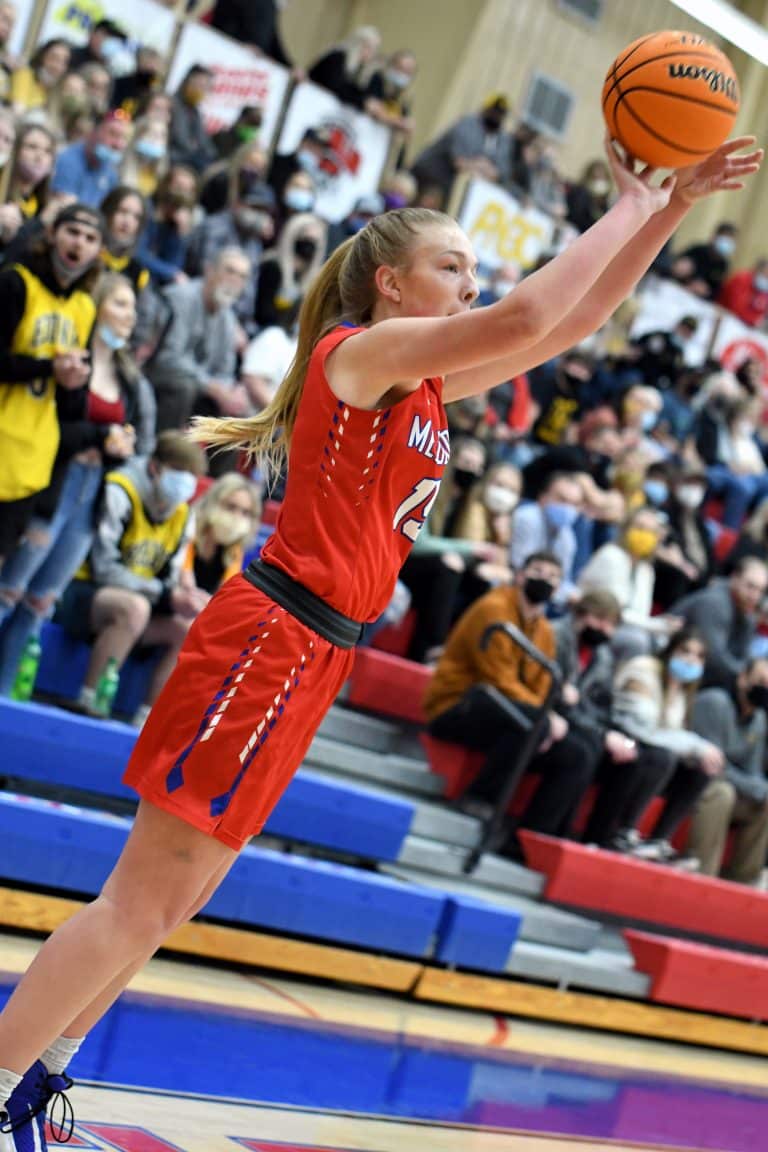 The Melbourne Lady Bearkatz scored 220 points in three games in the 2A Central Regional Basketball tournament while holding the opponents to 117 to march through the bracket to win the Regional title for the third consecutive time. They defeated Conway Christian 88 to 28, the Quitman Lady Bulldogs, last year's state finalist, 65 to 46 and the Salem Lady Greyhounds by a score of 67 to 43.
The Lady Bearkatz had three players with double digit points per game averages. Jenna Lawrence and Kenley McCarn each averaged 16.3 points per game and Kiley Webb averaged 12 points per game. Lawrence, McCarn and Webb were selected for the All-Region Team as well.
The Bearkatz came out roaring looking for a berth to the State Tournament. They met that goal by defeating Maumelle Charter 65 to 53 on Wednesday after their teammate Layton Hennings suffered a season ending injury.
In the next game they faced the Tuckerman Bulldogs on Friday night in one of the most exciting comebacks ever. The Bearkatz faced a double-digit deficit with 3 minutes remaining. But never say never, at least not until the final buzzer. Senior Leader Remington Lawrence finished the Bearkatz comeback with 3 free throws with .4 seconds remaining in the game.
The Katz Comeback was even more special considering all the obstacles the team had faced all season. The entire team faced three 20-day Covid-19 induced quarantines, Layton's season ending injury, Covid-19, and games played without a full roster for one reason or another.
The Bearkatz refused to give in and forced 5 turnovers and hit multiple back-to-back three's and one 2-point bucket by Jaxon Sanders, Riley Gray, and Remington Lawrence to tie the game with 18 seconds left. Junior Bradie Gunther and Jaxon Sanders were unrelenting on forcing turnovers. The Tuckerman Bulldogs had a chance to seal the deal but missed the front end of a one and one and Remington Lawrence sprinted down the court and was fouled on his missed 3-point attempt. Lawrence with ice in his veins finished the job, by hitting all three foul shots. Lawrence scored 19 points on the night.
"I've never seen anything like it," Melbourne head coach Scott Bowlin said in the locker room after the turnaround. "I've been doing this for 38 years, and I've never seen anything like it."
The Bearkatz secured their trip to the Regional Championship game but ultimately ran out of gas and fell to the White County Central Bears.  Riley Gray and Remington Lawrence received All Region Team honors.  Congratulations on a GREAT season thus far, Conference and District Champions and Regional Runner-Up.  They continue to Stay in the Fight and will now focus on the 2A State Tournament.