Baron Gilmore is currently enrolled at Highland High School as a sophomore. He excels academically and works hard for his teachers and always has a positive attitude despite his handicap (he is completely blind). He has competed at the state level in many Braille competitions and received numerous awards for his accomplishments, with many first place finishes for speed and accuracy.
He wasn't always such a success. He struggled until just a few years ago (sixth-seventh grade) when he became much more focused on his goals. He works with Mrs. Sanders, a Braille/blind specialist that comes to Highland a few times a week to check on his progress. She has been a huge inspiration to him to keep him motivated, as well.
"Baron joined the band program in seventh grade. I was fortunate enough to have a period where I could work with him one on one to get him started on the trumpet," Greg Bruner [Highland School District's Band Director] said. "He has a natural musical ear, so picked it up very quickly. He participated in junior band his eighth grade year and has been a member of the high school band and jazz band for the past two years. Baron, for now, is taught to play his parts by ear. He is working toward a goal of learning to play by reading music by Braille, but this is a lengthy process! He has received solo and ensemble awards each year for his playing. His willingness to learn and his perseverance have made him a big part of our program. His personality always adds to our classroom!"
In keeping with his strong faith, when asked if there was anything he wanted to add, Gilmore affirmed, "The reason I receive those awards, is that I did what God tells me to do."
According to the The National Federation of State High School Associations, "The Heart of the Arts Award is annually conferred to eight section recipients as well as one national recipient. The recipient must be an individual from a high school that is a member of an NFHS-member athletic or activity association." In 2023, an additional 11 state winners were chosen, and Gilmore is one of these recipients.

The orginial article by Bobby Swofford appeared on the Arkansas Activities Association website and can be found here. Additional information has been added courtesy of Baron Gilmore and the National Federation of State High School Associations.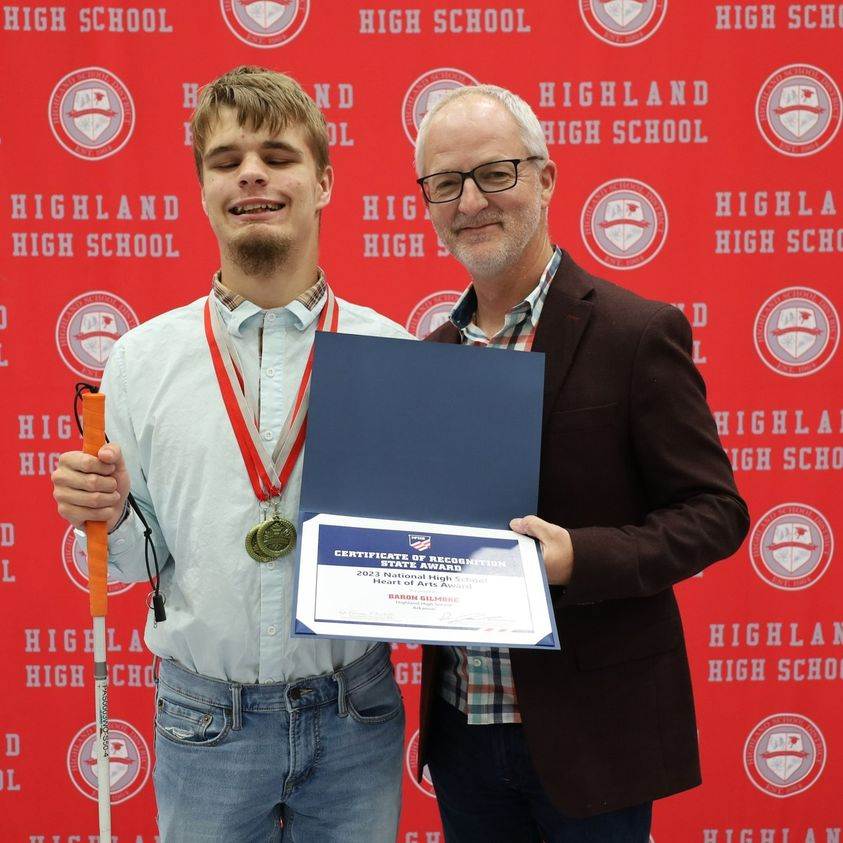 Baron Gilmore, recipient of the 2023 NFHS Heart of the Arts Award for the state of Arkansas, i pictured with Greg Bruner, Highland High School Band Director. (Photo: Highland School District)