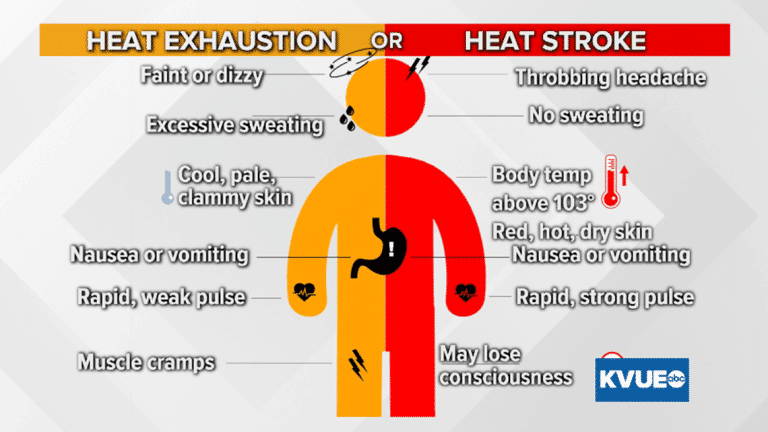 The heat index is in the triple digits from noon Aug. 29 until the morning of Aug. 31, with temperatures ranging from the mid-70s to 100 degrees actual temperature.
Hot temperatures and high humidity may cause illness to occur, and it is possible those working outdoors could experience heat exhaustion or heat stroke if precautions aren't taken.
The National Weather Service advises anyone who will be spending time outdoors to drink plenty of water, check on relatives and neighbors and stay out of the sun if possible.
Young children and pets should never be left unattended in vehicles under any circumstances.
If you are going to be outdoors for prolonged periods, take extra precautions.
"When possible, reschedule strenuous activities to early morning or evening," the service advised.
Knowing the signs and symptoms of heat exhaustion and heat stroke is vital.
According to the Mayo Clinic, signs of heatstroke include a headache; dizziness and confusion; loss of appetite and feeling sick; lack of sweating; dry, red, hot skin; fast breathing or heavy pulse; a high temperature of 103 or above and or being very thirsty.
Signs of heat exhaustion are similar, and the two are not dissimilar in symptoms.
"Cool, moist skin with goosebumps when in the heat; heavy sweating; faintness; dizziness; fatigue; weak, rapid pulse; low blood pressure upon standing and or muscle cramps are signs of heat exhaustion," the Mayo Clinic states.
The signs and symptoms listed above are not complete lists.
Wearing lightweight and loose-fitting clothing when possible, scheduling frequent rest breaks in shaded or air-conditioned environments is highly recommended. Anyone overcome by heat should seek a cooler environment immediately.
Additionally, pets especially those outdoor should be check on frequently and provided with fresh cool water and ample shade.